AT&T CEO Says Smartphone Subsidies Must End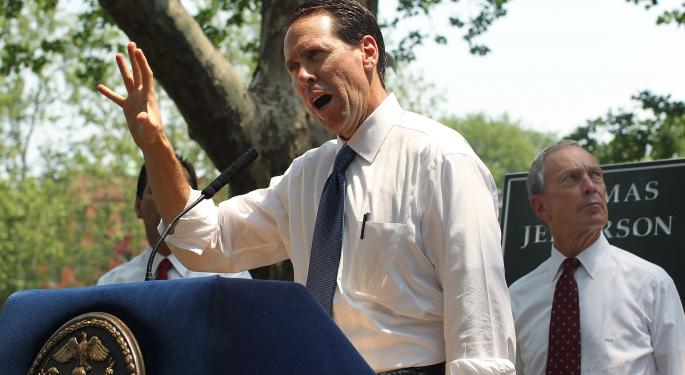 AT&T(NYSE: T) CEO Randall Stephenson at an investor conference in New York Tuesday said wireless operators could no longer afford to subsidize the cost of constant smartphone upgrades for customers.
Noting that smartphone penetration was more than 75 percent and would soon reach 90 percent, Stephenson said instead companies needed to concentrate on getting customers to use more of the network.
To that end, last week AT&T unveiled a new pricing plan that saves customers $15 a month on their bill if they agree to keep their old phone instead of upgrading.
Stephenson admitted that breaking customers of their upgrade habit would not be easy. Many cellular customers are used to a repeating upgrade cycle of anywhere from 18 months to two years.
AT&T's answer was to provide no-money down, zero percent financing through a program called AT&T Next. According to Stephenson this business model would be more sustainable for the company over time than the subsidy route.
Stephenson and AT&T are not alone in this type of thinking. T-Mobile USA (NYSE: TMUS) eliminated carrier subsidized devices this year and was the first major carrier to offer device financing.
GigaOm reported in March that almost 30 European wireless carriers had stopped subsidizing smartphones for some or all of their customers and replaced those subsidies with leasing or financing plans.
Related: Verizon and AT&T Unveiling Plans to Compete with T-Mobile 'Jump' Plan
If all U.S. carriers eventually followed the lead of T-Mobile and AT&T, this could create problems for device manufacturers, according to PadGadget.
Manufacturers of expensive phones like the Apple (NASDAQ: AAPL) iPhone 5S might see customers switch to cheaper smartphones. All manufacturers, in fact, might be forced to concentrate on producing lower-priced phones in order to stay competitive.
Mac Observer noted that the elimination of smartphone subsidies might scare off some people at first. Once they realized, however, that paying more upfront would result in lower monthly service costs they would likely see the value and return.
Jim Cramer's The Street singled out Apple as a company that could see an impact from the potential end of device subsidies. The Street noted that Apple CEO Tim Cook said, in a 2012 earnings call that subsidies were not a big concern.
At the time Cook said, "From the carrier's perspective, I think it's also important to remember that the total subsidy that they pay is fairly small relative to the monthly payments they collect over a 24-month contract period."
Cook added that carriers valued iPhone owners because they were also likely to have an iPad, also connected to the carrier's data network.
At the time of this writing, Jim Probasco had no position in any mentioned securities.
View Comments and Join the Discussion!
Posted-In: Apple AT&T AT&T Next European iPadNews Management Media Best of Benzinga