Spotify Releases its Pricing Plan; Shares of Pandora Tumble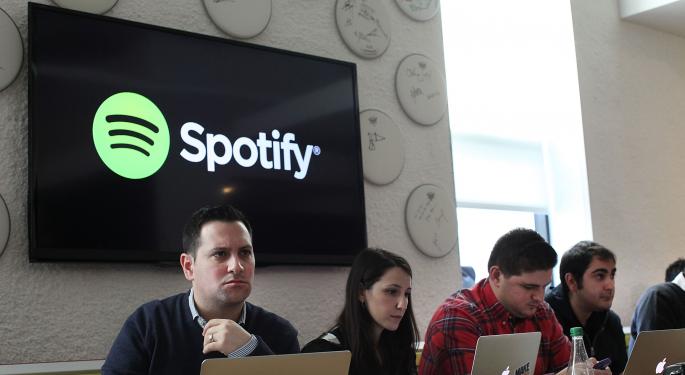 Spotify has released its pricing structure, causing investors of Pandora Media (NYSE: P) to panic.
Spotify is offering free access to its streaming music service on iOS and Android smartphones and tablets. Tablet users will have identical access to the same "freemium" experience that is available on the desktop. A free "Shuffle" service will be available on iOS and Android smartphones, known as Spotify Shuffle.
Spotify Shuffle is similar to the offering Pandora, iTunes Radio offers -- but  Spotify Shuffle gives the user more control over the playlist. A user that wants to listen to a random shuffle of their favorite singer or band would find Spotify's service superior. as it will offer 100 percent of what the user wants to hear.
Competing services, on the other hand, would offer 20 percent of what the user wants to hear and 80 percent of similar bands.
Originally, Spotify charged users $4.99 to access the service online without ads being shown, and $9.99 to access Spotify across multiple devices.
In the new model, Spotify is extending free access across tablets and a completely free (although limited) product on mobile.
Shares of Pandora responded to the latest developments from its competitor -- who is now offering a competing service for free. In mid-afternoon trading, shares of Pandora were trading lower by seven percent.
Analysts at Albert Fried & Company released a report that defended Pandora's dominance in the market, while issuing a bearish tone when it comes to shares of the company.
"We don't think the [Spotify free product] is all that compelling as the Pandora's search platform is one of the most technologically advanced passive search engines ever created," Rich Tulio, director of research, wrote.
"We think Spotify is trying to disrupt the entire concept of IP Radio streaming," he added, "and we think re launching radio is just a gambit by Spotify CEO Daniel Ek to kill IP radio in favor for his file sharing model."
According to Tulio, an artist could expect to earn $1.82 on Pandora for every 10,000 plays versus $26 on Spotify.
When it comes to Pandora's shares, Tulio offers a very bearish perspective. "Pandora offers a great service and revenue growth potential," he wrote. "However, great companies do not always offer attractive returns for equity investors."
Shares are Underweight, rated with a $23 target, implying an approximate 21 decline from Dec. 10th closing price.
Posted-In: Albert Fried & Company online radio PandoraNews Tech Media Reviews General
View Comments and Join the Discussion!