States Scramble to Land Lucrative Boeing 777X Project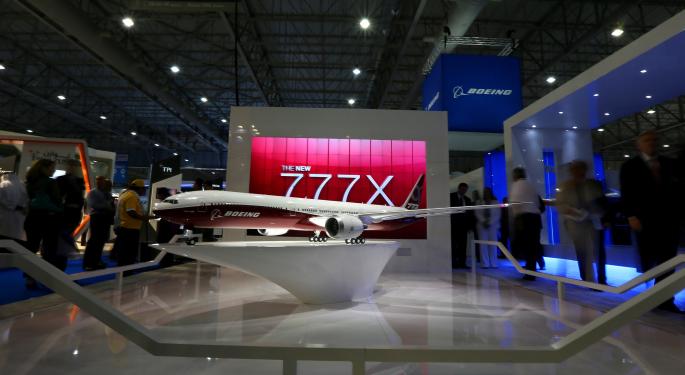 The race is on between a dozen or so states to see who can become the home for production of the new and very lucrative Boeing (NYSE: BA) 777X jetliner, a multi-billion-dollar project the company says is targeted for its first delivery to the airlines in 2020.
That scramble began last month, when the union representing Boeing's Seattle-area machinists rejected a contract to ensure the 777X would be built in Washington state.
Union representatives met with Boeing executives on Tuesday, to see if they could restart the talks. But that hasn't stopped other states from getting their own bids ready.
According to the Los Angeles Times, Gov. Jerry Brown's office of Business and Economic Development is planning to submit a proposal to Boeing. The company is preparing to close its C-17 Globemaster III cargo jet plant in Long Beach, Calif., in 2015, and is looking for a replacement project.
See also: Boeing's New Airliner Tops Big Year for the Stock
"Based on our skilled workforce, existing manufacturing base and targeted business incentives, California is in a strong position to compete," Mike Rossi, a senior advisor to the governor for jobs and business development, told the Times. "We will continue to work closely with the Legislature, local officials and Boeing to bring new jobs and investment to California."
But California's interest hasn't slowed down other state efforts to woo Boeing.
On Tuesday Missouri Governor Jay Nixon signed into law a measure creating up to $150 million annually in tax credits for Boeing, if they move the 777X assembly plant to his state.
"Today, another big aerospace project is in play," the St. Louis Post-Dispatch reported Nixon as saying during the signing ceremony. "Its outcome will have a powerful and lasting outcome on this region."
Alabama, home to a $600 million assembly plant for Boeing rival Airbus, a division of EADS (OTC: EADSY), is also hoping to land the 777X project – even though the state is currently out of finacial incentives.
According to The Associated Press, Alabama provided a wide spectrum of state and local tax breaks when it recruited Airbus last year.
"We will look at a different incentive package for Boeing if we are able to recruit them," AP quotes Alabama Gov. Robert Bentley as telling reporters. "And in fact, part of the thing we put into our package dealt with incentive packages we hope we can possibly develop."
The Chicago Tribune, meanwhile, says Illinois, South Carolina, Georgia, Kansas and Wisconsin are also vying for the 777X contract.
The Trib also says Boeing is expected to chose the site for its 777x early next year.
View Comments and Join the Discussion!
Posted-In: aviation aviation industry Boeing 777XNews Contracts Travel Media General Best of Benzinga