Rumor: Google to Announce Set-top Box Early in 2014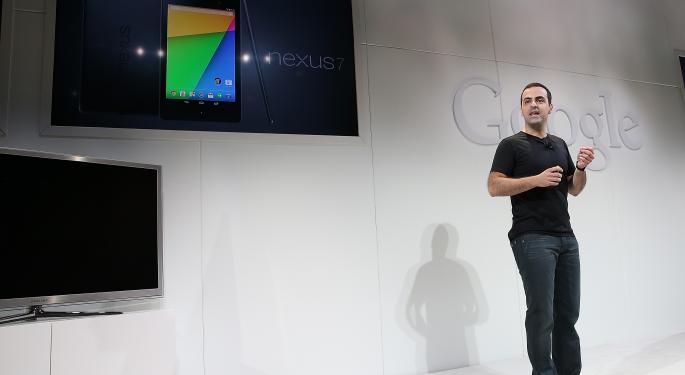 According to The Information (subscription required), Google (NASDAQ: GOOG) plans to come out with a set-top box called Nexus TV sometime in the first half of 2014.
The new device, Geekwire said, would compete with Apple's Apple TV, Microsoft's Xbox One, and Amazon's rumored-but-so-far-delayed FireTube.
Back in July, when The Wall Street Journal reported on the prototype of a Google set-top box – at the same time Google announced the premiere of Chromecast – it wasn't clear whether the set-top box idea had been scrapped in favor of the new device. The latest rumors seemed to indicate Chromecast was a precursor, not a replacement.
According to the earlier WSJ report, the device would include a video camera and motion sensor. It was not known if the camera and/or motion sensor would be included in the latest version.
Related: Google's Eric Schmidt Says Switch Your Apple Friends to Android
According to The Verge, Google's new set-top box would run on Android and allow video streaming from Netflix, Hulu, and YouTube. In addition, it would play a yet-to-be-determined number of video games.
As PC Magazine pointed out, a first half 2014 launch fits into reports that Google planned a big Google TV announcement at the Consumer Electronics Show in January. The news also provided a ready response in the event Amazon released its own set-top box in 2014, as has been rumored.
While Nexus TV would likely stream video, play games, and offer Skype-like teleconferencing, it would probably not include live television via Internet Protocol Television (IPTV). None of the rumors seemed to indicate Google had successfully contracted with any content providers for that feature.
PCMagazine suggested a more modest announcement might be forthcoming at CES in January. It said Google would be more likely to announce updates to the Android OS used to power Google TV on various existing devices.
The majority of reports, however, point toward an actual device, in the form of a set-top box that performs all the functions of Chromecast and more. It's the "more" part that had most people interested.
If Google came out with what is essentially a competitively priced gaming console that included video streaming and tele-conferencing, it could become a very popular alternative to high-priced game systems. The fact it would include advertising would not likely be objectionable to a public that has grown used to ads on television, computers, tablets, and smartphones anyway.
At the time of this writing, Jim Probasco had no position in any mentioned securities.
Posted-In: Amazon Android AppleNews Wall Street Journal Rumors Events Media Best of Benzinga
View Comments and Join the Discussion!