Benzinga's Weekend M&A Chatter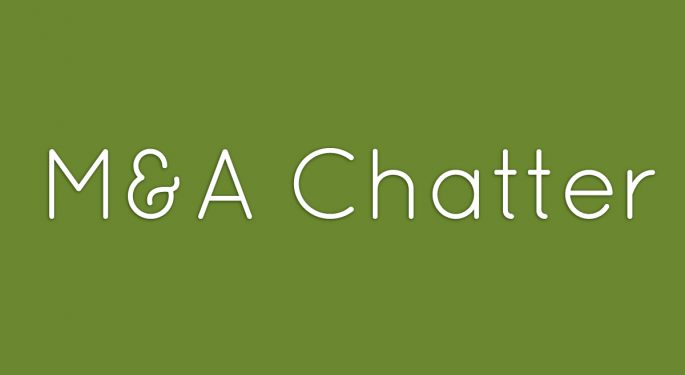 The following are the M&A deals, rumors and chatter circulating on Wall Street for Friday December 6 through Sunday December 8. 2013:
Yahoo Acquires EVNTLIVE
The Deal:
Live streaming concert platform View EVNTLIVE, announced on its website Friday, it had been acquire by Yahoo (NASDAQ: YHOO). Terms were not disclosed.
Yahoo closed Friday at $38.86 a loss of $0.01.
Comcast Reportedly Hires JP Morgan to Advise on Possible Time Warner Cable Deal
The Rumor:
Reuters reported Friday that the nation's largest cable operator, Comcast (NASDAQ: CMCSA), has hired J.P. Morgan as an advisor for its potential bid to acquire the US' second largest cable operator, Time Warner Cable (NYSE: TWC). The Wall Street Journal meanwhile, reported Friday that such a deal would face major obstacles, according to an FCC official.
Comcast, Charter Communications (NASDAQ: CHTR), backed by Liberty Media's (NASDAQ: LBTYA) John Malone and privately-held Cox Communications have all been rumored in recent weeks to be making a bid for TWC, both individually and in partnership.
Comcast closed Friday at $49.27, a gain of $0.19, while Time Warner Cable closed at $131.00, a loss of 1%.
InterOil Sells 61.3% Stake in PRL 15 in PNG to Total as Shares Plummet
The Deal:
Shares of InterOil (NYSE: IOC) plunged under $51.00 Friday, as the company announced an agreement to sell a 61.3% stake in Petroleum Retention License 15, containing the Elk-Antelope gas fields in Papua New Guinea, to Total (NYSE: TOT). The purchase price is between $1.5 billion and $3.6 billion, depending on appraisal and certification of Elk-Antelope.
InterOil later provided clarification on the deal with Total. The Sale and Purchase Agreement, filed on SEDAR and with the SEC, stipulates both fixed and variable payments as previously disclosed. Fixed payments to InterOil include US$613 million on transaction completion, which is expected in Q1 2014; US$112 million on a final investment decision for a new LNG plant; and US$100 million at first LNG cargo from the proposed LNG facility.
InterOil closed Friday at $55.50, a loss of 37%.
View Comments and Join the Discussion!