Apple's New iBeacon Features Personal Location-Based Ads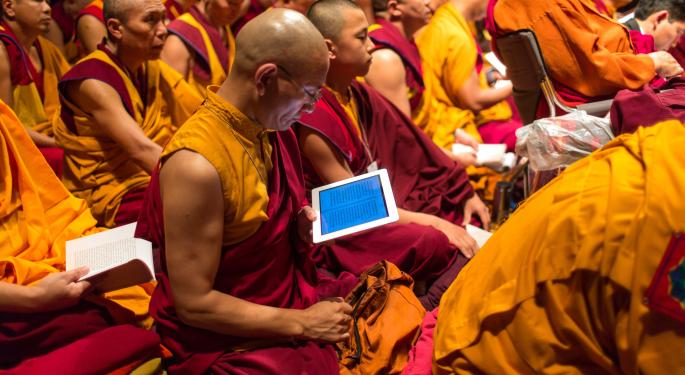 In this clip from the 2002 movie, Minority Report, Tom Cruise, aka John Anderson, walks through a crowded mall where he and other shoppers are besieged by personal ads, based on their proximity to display kiosks.
Fast forward to Friday. Apple (NASDAQ: AAPL) announced it would begin using micro-location technology embedded in a feature Apple called iBeacon, to track your whereabouts inside any of its 254 U.S stores, according to The Associated Press. iBeacon, according to Apple, would send you messages about products, store events or other types of information.
Some of that information would be personal, said AP, which attended a demonstration of the technology at Apple's 5th Avenue store in New York. For example, if you have ordered a computer and it is ready for pickup, as soon as you enter the store, iBeacon would notify you so you could pick up your computer before you left.
Related: Carl Icahn Returns with New $50 Billion Stock Buyback Plan for Apple
When you walk past a table with an iPhone display, you might get a message encouraging you to upgrade, including how much Apple would give you for the phone you have now.
Apple's technology relies on Bluetooth. iBeacon's operating range can be set to variable distances to accommodate messages of a general nature, as well as those dependent on you being in a certain part of the store at the time you receive the message.
The future of micro-location technology, of course, goes well beyond your experiences in an Apple store. You might be, for example, able to switch commuter trains at the last minute after finding out there's a delay.
Guided tours of historic landmarks could be individualized and very flexible in terms of starting times, since it wouldn't be necessary to wait until there was a large enough group to accompany a tour operator.
Grocery shopping could get interesting if you were reminded to pick up a half gallon of milk at the precise moment you walked past the dairy case. Or, advised that popcorn was on sale just in time for tonight's premiere of the new season of The Goldberg's.
There are privacy concerns, although many people allow themselves to be tracked with other smartphone apps. The deciding factor seems to be whether the consumer gets something out of the deal – such as a discount, sale notification, or an important reminder.
Other apps exist that rely on some form of micro-location technology. The Associated Press cited Shopkick, which sends shoppers notice about discounts when they enter certain stores, such as Target, Macy's or J.C. Penney.
At the time of this writing, Jim Probasco had no position in any mentioned securities.
Posted-In: Apple Bluetooth iBeaconNews Events Tech Media Personal Finance Best of Benzinga
View Comments and Join the Discussion!