Commercial Drone Industry Ready for Takeoff in the U.S.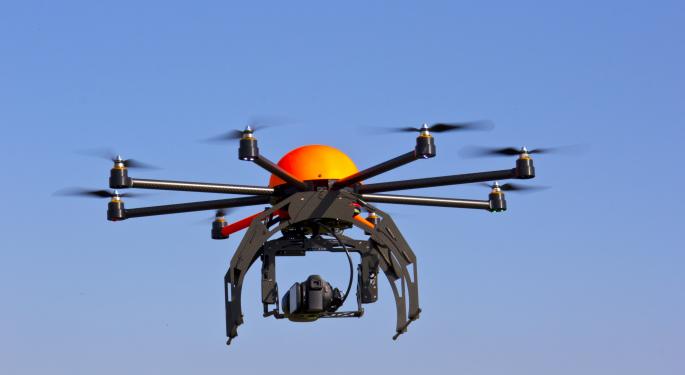 The interview with Amazon (NASDAQ: AMZN) CEO Jeff Bezos that aired Sunday on CBS' (NYSE: CBS) 60 Minutes is getting a lot of buzz on the internet; especially his unveiling of a company package delivery system using unmanned drones.
While Bezos acknowledges such a drone delivery system is still years away from reality, the reality is unmanned aircraft – and not just the weaponized military drones that seem to make headlines every week – are already being considered for use across the U.S. in a variety of commerical applications.
Unmanned aerial vehicles, UAVs (also known as unmanned aerial systems or UAS), are currently being developed for agricultural use; to help farmers monitor their crops.
See also: Fire at Bangladesh Garment Factory Destroys Months of Stock for Major Western Retailers
"I think that drones will be used more and more versus manned aircraft when it comes to surveillance, Brian Ruttenbur, an industry analyst with CRT Capital Group in Connecticut, tells Benzinga. "It is so much cheaper to operate an unmanned system versus a manned system. The expense savings is in both in training of pilots and in maintenance of the aircraft and the expense of the aircraft."
There's also talk of drones, with their ability to fly for hours at low altitudes, being used in the future for aerial spraying or seeding work.
UAVs are also being put to use for scientific and communications purposes, such as monitoring animal migrations or letting journalists view otherwise dangerous situations such as fires. And several months ago, according to Reuters, oil giant ConocoPhillips (NYSE: COP) confirmed it was working with the Federal Aviation Administration on the "regulatory and safety aspects" of using drone technology.
Industry sources quoted by UPI, expect the commercial drone business to expand to $10 billion within three years. But Ruttenbur, who's covered the drone industry for several decades, has his doubts about that figure – as well as how fast those drones are going to actually be incorporated into civilian use.
He does see a bright future not just for the developers and manufacturers of unmanned aerial vehicles, however, but especially for companies developing what will be riding in those drone payloads.
"The drone is a 'bus,' and that's going to be replicated, and there's going to be some money made there." he says. "But it's all the different applications and the hardware, as well as software that interprets what the hardware detects, that's where the money's going to be made.
Ruttenbur points to FLIR Systems (NASDAQ: FLIR), a company that produces the Forward Looking InfraRed imaging systems used by the military and law enforcement, as an example of a firm well positioned to benefit from the rise of the drones.
There have been some major policy landmarks, as well. This past July, the FAA issued the first U.S. certification of drones for commercial use to Boeing (NYSE: BA) – for its Insitu ScanEagle division's X200 – and to AeroVironment (NASDAQ: AVAV) for that company's Puma UAV. Both vehicles are classified as "small UAS" – weighing under 55 pounds with wingspans of around 10 feet.
The FAA plans to integrate private sector UAS into the civilian National Airspace System as early as 2015, and Europe plans to follow suit in 2016. But there are still a lot of logistical,technical and safety issues to overcome.
"Whenever you're dealing with an early, emerging industry, you''re going to have three steps forward and two back," says Ruttenbur, "and that's what I see happening with the unmanned systems."
Posted-In: aviationNews Guidance Startups Media Interview Press Releases General Best of Benzinga
View Comments and Join the Discussion!