Supreme Court to Hear Obamacare Birth Control Mandate Challenge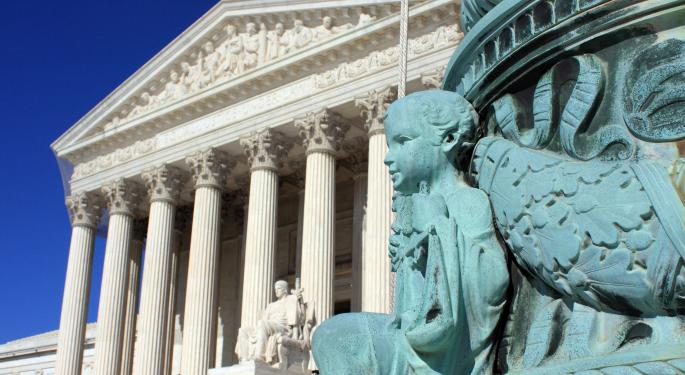 On Tuesday, the U.S. Supreme Court agreed to review two cases, among more than 30, in which for-profit companies claimed the Affordable Care Act's birth control provision mandate violates both their religious beliefs and the First Amendment.
The two cases involve privately held Hobby Lobby and Conestoga Wood Specialties Corporation. The question before the courts has to do with whether a corporation has the right to refuse to provide birth control and family planning services without co-pay, as the Affordable Care Act requires it to do, on the basis that this would violate its religious beliefs.
A mixture of conflicting lower court decisions led to the matter coming before the Supreme Court.
Business Insider noted that in June a Denver federal appeals court said religious freedom "can be communicated by individuals and for-profit corporations alike." Then in July a Philadelphia federal appeals court ruled "for-profit, secular corporations cannot engage in religious exercise."
The White House asked the Supreme Court to reverse the Denver federal court ruling. The court is expected to take up the matter this coming spring with arguments in March and a ruling by June.
White House press secretary Jay Carney released a statement Tuesday noting that the Affordable Care Act provides free coverage for certain types of preventative care like cancer screenings and birth control and that the White House believed the requirement to provide this coverage was lawful.
Carney further stated that the administration, while ensuring that churches and religious organizations should not have to violate the tenets of their faith, neither bosses nor corporate CEO's should be permitted to make personal health decisions for their employees based on their needs or budgets.
Related: Obamacare May Cost Far Less than Businesses Thought
The Hobby Lobby case, which the Supreme Court will hear, involves a claim by owner, David Green and his family, who said their Evangelical Christian beliefs are in opposition to certain of the Affordable Care Act's mandates. They claim they should not be required to provide insurance coverage that violates those beliefs.
Lead attorney for Hobby Lobby, Kyle Duncan, said the Supreme Court decision to hear the case was a "major step" for the Greens and "an important fight for Americans' religious liberty."
In the other case to be reviewed by the court, owners of Conestoga Wood Specialties Corp. sued the secretaries of Labor, Health and Human Services and the Treasury, based on their claim that it would be "sinful and immoral" to require them to comply with the Affordable Care Act by paying for certain forms of contraception.
Ultimately the justices will have to decide whether provisions of the 1993 Religious Freedom Restoration Act, which states that the government cannot "substantially burden a person's exercise of religion" unless it had a "compelling" reason for doing so, apply only to actual "persons" or to corporations as well.
Posted-In: Affordable Care Act birth control mandate Conestoga Wood Specialties Corporation David Green DenverNews Events Media Best of Benzinga
View Comments and Join the Discussion!