Katie Couric's Jump to the Internet: A Game-Changer for Content Producers?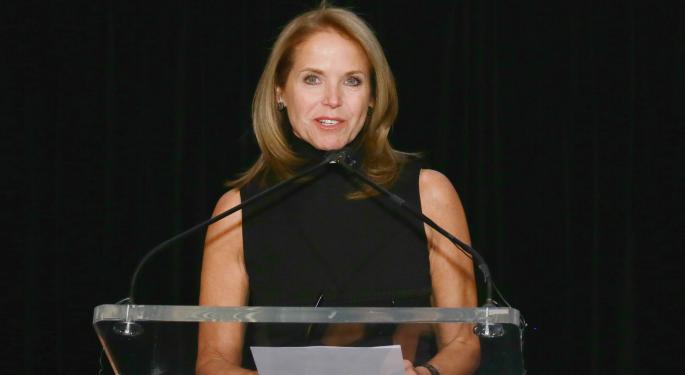 Word of Katie Couric's jump from television to online has the entertainment and digital industries abuzz with speculation. Does her hiring as a "Global Anchor" on Yahoo (NASDAQ: YHOO) signal the latest seismic shift in how consumers are getting their video content, or is it just a way for the internet site to further raise its profile with consumers, by bringing in a well-known TV celebrity?
Maybe it's both. As a brand, Couric has been struggling in recent years – shifting from NBC – owned by Comcast (NASDAQ: CMCSA) – to CBS (NYSE: CBS) and then over to Disney (NYSE: DIS)-owned ABC. As Andrew Wallenstein at Variety recently noted, "maybe Katie Couric is going to Yahoo because there is simply nowhere else to go."
Related: Four Shakeups in the Financial Media Space
And while TV talk shows have long been a cash cow for the broadcast networks, Yahoo remains one of the most-visited internet web sites, with 800 million users worldwide. The site reportedly brought in close to 200 million visitors this past July alone.
And in a press statement, Couric said joining Yahoo offers her "a tremendous opportunity to reach people all around the world in the way that they're using and consuming media today."
AllThingsD notes Yahoo CEO Marissa Mayer has been trying to "goose" her website's bland image by recently hiring New York Times tech reviewer David Pogue and entering into discussions with another broadcasting personality, Ryan Seacrest.
All these "content initiatives," according to All Things D, are part of Yahoo's plan to raise itself above the pack and "provide users with unique reasons" to click on the internet giant.
But as Variety's Wallenstein points out, web portals like Yahoo and AOL (NYSE: AOL) are also dealing with a changing consumer landscape and declining visits to their sites, which is in turn affecting essential advertising revenue.
Bringing on board a big-name personality, he says, is going to be a gamble for Yahoo; "a real test to see if Yahoo can do what they've never really done well before: Justify the big bucks that no doubt had to be spent to get Couric with the kind of well-orchestrated promotional assault that will bring eyeballs. The kind of eyeballs that actually come back a second or third time, too."
Posted-In: All Things D Andrew Wallenstein entertainmentNews Tech Media Interview General Best of Benzinga
View Comments and Join the Discussion!