Winter Storm Could Cripple Holiday Travel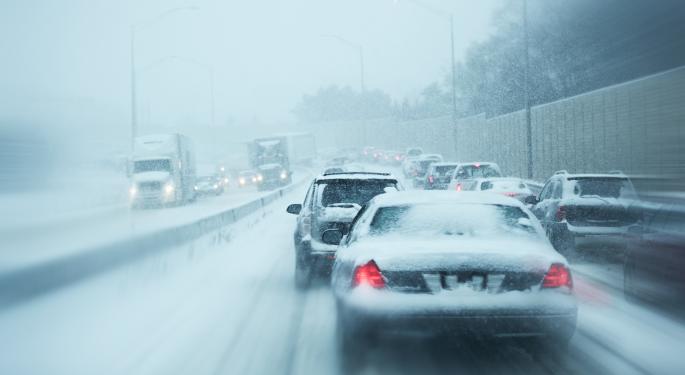 The first winter storm to make headlines this season pounded Texas over the weekend and threatens to impact the East coast Tuesday through Thursday—one of the busiest travel times of the year.
The storm formed off the coast of California last week, dumping heavy rain and snow across Southwestern states. The storm is said to be responsible for eight deaths, including four who were killed in an automobile crash in the Texas panhandle.
American Airlines (OTC: AAMRQ) canceled 337 flights at Dallas/Fort Worth Airport Sunday with another 115 likely canceled Monday, according to the Wall Street Journal.
Meteorologists expect the storm to combine with another storm that originated in Canada somewhere in the Louisiana area and travel up the East Coast by Tuesday and Wednesday.
Up to two inches of rain, high winds, and six inches of snow will affect stretches of the I-95 corridor including West Virginia, parts of Pennsylvania, New York, and Northern New England Tuesday and Wednesday, according to Meteorologists.
National Weather Service Meteorologist Kurt Van Speybroeck said, "A lot of people are going to remember this, just because of the closeness to Thanksgiving and that we're getting winter precipitation in the South."
Related: FCC Proposes Lifting Ban on In-Flight Cell Phone Use
According to one airline analyst, the storm will cause a ripple effect that could keep some travelers from their destinations. Independent analyst Robert Mann said, "It will be difficult to get some of these folks where they want to go…as you have the cancellations move to the east [with the storm], you'll have aircraft and crews out of position. I'm afraid it's shaping up as a one-two-three punch as it moves up the coast."
Early predictions should have the storm well clear of affected areas during the key Black Friday shopping frenzy. Retailers rely on Thursday night and Friday for a significant portion of their holiday revenue making a major winter storm problematic for northeastern retailers should the storm unexpectedly slow.
Airlines including Southwest Airlines (NYSE: LUV), JetBlue (NASDAQ: JBLU) and Delta (NYSE: DAL) are watching the storm's path but have no decisions. JetBlue spokesperson Jenny Dervin said, "We do expect it to have some impact this week, but we haven't made any decisions regarding our major base of operations in New York and Boston."
43.4 million Americans are expected to travel more than 50 miles from home Thanksgiving weekend including 3.14 million who are flying, according to AAA.
Disclosure: At the time of this writing, Tim Parker had no position in the above mentioned companies.
Editor's note: This piece was originally published on November 25, 2013.
View Comments and Join the Discussion!
Posted-In: AAA American Airlines Delta AirlinesNews Travel Events Media General Best of Benzinga