Market Wrap For November 19: Home Depot's Strong Earnings Unable To Keep Dow In Positive Territory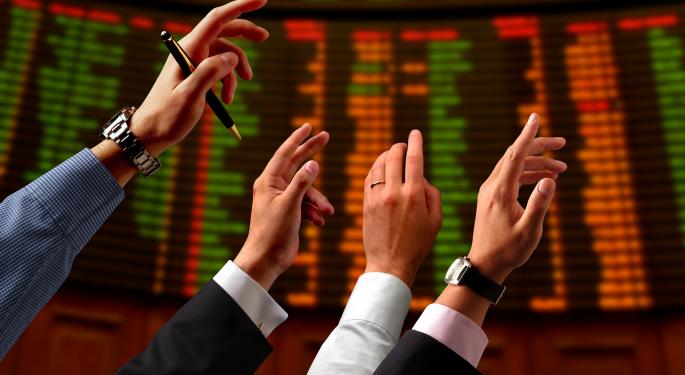 Tuesday, Chicago Fed boss Charles Evans said that 2013 growth will likely fall short of expectations. In what is clearly a growing sign of Twitter's (NYSE: TWTR) ability to deliver news, the Chicago Fed live-tweeted Evan's speech which was given to Illinois bankers.
Most notable was: @ChicagoFed #CharlesLEvans our purchases will continue to be open ended. We may need to purchase 1.5 trillion in assets until January 2015. Also of interest was Evan's view that the benefits of the Fed's policy outweigh the costs. Evans is looking forward to the day "when we can begin to unwind."
The Dow closed lower by 0.06 percent, at 15,966.90.
The S&P 500 closed lower by 0.20 percent, at 1,787.86.
The Nasdaq closed lower by 0.44 percent, at 3,931.55.
Gold edged higher by 0.04 percent, trading at $1,272.80.
Oil gained 0.26 percent, trading at $93.92.
Silver lost 0.16 percent, trading at $20.33.
News of Note
Economic data was light with the Redbook Chain Store Sales came in at 3.5 percent year over year compared to 3.3 percent last week.
Premarket, the Organization for Economic Cooperation and Development cut its global growth forecast for the remainder of this year and also cutting its forecast for 2014. The Paris based organization cited the "fragilities" that exist in emerging markets such as Brazil and India. The organization cut its 2013 global growth projections to 2.7 percent, down from 3.1 percent. Next year, the global economy will grow 3.6 percent, instead of its previously forecast four percent.
The OECD described the Fed as being in a "very tricky position" and believes that the Fed must keep an accommodative stance for some time before tapering, which will "happen eventually." The U.S. economy is expected to expand 1.7 percent this year, and 2.9 percent in the following year.
Finaly, the OECD said the European Central Bank's strategy of driving down wage costs across Southern Europe through deflation is leading to a debt trap that is "ultimately unworkable." The eurozone is expected to contract 0.4 percent in 2013 before returning to growth in 2014 with a one percent expansion.
Treasury Secretary Jacob Lew commented that policy makers should consider a "reform" of the government's borrowing limit in order to avoid future "fiscal clashes" that can harm economic growth. The debt ceiling is suspended until February 7, 2014. Lew commented that Congress should agree to raise the debt ceiling "way in advance."
Equities-Specific News of Note
Investors weren't too pleased with Salesforce.com's (NYSE: CRM) earnings release yesterday after the bell. Shares dropped 5.03 percent closing at $52.72 for the day as margin pressures caused by the company's operating expenses (especially for sales and marketing) is being viewed as a negative.
Nokia (NYSE: NOK) shareholders approved the sale of the company's devices and services division to Microsoft (NASDAQ: MSFT). Separately, Nokia is reported to have scrapped plans to pursue an acquisition of parts of Alcatel-Lucent (NYSE: ALU) after weighing its options. Nokia closed lower by 3.10 percent, closing at $7.81, Microsoft lost 1.24 percent, closing at $36.74, while Alcatel-Lucent declined 5.96 percent, closing at $3.79.
Jim Chanos revealed his bearish stance on Exxon (NYSE: XOM) and described shares as a "value trap" during the Reuters Summit. Shares were largely unaffected, closing the day lower by 0.04 percent at $95.41.
At Elon Musk's request, the NHTSA will investigate if Tesla's (NASDAQ: TSLA) Model S has an increased risk of fire. Shares of Tesla gained 3.71 percent for the day, closing at $126.09. Shares are still significantly lower from its 52 week highs of $194.50.
Related: NHTSA Opens Formal Investigation into Safety of Tesla Model S
A U.S. Senator, Jeff Sessions, sent a letter to Treasury Secretary Jacob Lew questioning SolarCity's (NASDAQ: SCTY) government funding in light of recent reports the company's estimates are above its installation costs. "Over-inflating the cost of solar products is not only detrimental to the government, but to investors as well… There is concern that SolarCity might become the next Solyndra." Shares of SolarCity (in which Elon Musk is a board member) continued to decline today, down 8.01 percent closing at $46.70.
Starbucks (NASDAQ: SBUX) reiterated the company's guidance during its presentation at the Morgan Stanley Global Consumer Conference. Shares closed lower by 0.77 percent, closing at $79.92.
As expected, JPMorgan (NYSE: JPM) officially reached a $13 billion settlement with the government. Shares edged higher by 0.70 percent, closing at $56.13.
Winners of Note
Shares of IntelliPharmaCeutics (NASDAQ: IPCI) soared 162.96 percent to close at $4.97 after the FDA has granted final approval for the company's generic Focalin XR.
Evoke Pharma (NASDAQ: EVOK) was initiated with a Buy rating and a $60 target by Aegis. The analyst likes the regulatory chances for EVK-001. Shares closed higher by 43.56 percent, closing at $11.70.
Decliners of Note
After a strong performance yesterday, 3D printing stocks sold off today. 3D Systems (NYSE: DDD) fell 6.33 percent, closing at $75.50. Stratasys (NASDAQ: SSYS) fell 8.77 percent, closing at $116.93. Voxeljet (NASDAQ: VJET) fell the most by 14.73 percent, closing at $58.30.
Shares of LightInTheBox Holding (NASDAQ: LITB) tumbled 22.95 percent, closing at $7.69. Premarket, the company announced a loss of $0.04 a share when expectations were for a $0.05 profit. Revenue also missed, coming in at $68.1 million, below the expected $69.97 million.
Earnings of Note
Premarket, Dow component Home Depot (NYSE: HD) reported its fourth quarter earnings. The company reported an EPS of $0.95, beating the consensus of $0.89. Revenue was also a beat, coming in at $19.5 billion while the Street was looking for $19.17 billion. Shares closed the day higher by 0.90 percent at $80.39, having set new 52 week highs of $82.27 in the morning trading session. Lowe's (NYSE: LOW) is expected to announce its results tomorrow.
Related: Home Depot Boosting ETFs (HD, LOW, ITB, RTH)
Shares of Campbell Soup (NYSE: CPB) declined 6.22 percent, closing at $39.20. Premarket, the company missed on both EPS and revenues. The company earned $0.66, well below the estimated $0.86. Revenue declined 2 percent year over year to $2.17 billion while the Street was looking for $2.29 billion.
Premarket, Best Buy (NYSE: BBY) announced a beat in both EPS and revenue. EPS came in at $0.18 while the Street was looking for $0.13. Revenue also beat consensus coming in at $9.36 billion while the Street was looking for $9.33 billion. Shares closed the day lower by 10.95 percent, closing at $38.79 after investors were warned that future margins may come in lower due to increased promotional activity during the difficult shopping season.
Quote of the Day
"The four most dangerous words in investing are: 'this time it's different.'" - Sir John Templeton
Posted-In: 3D printers Alcatel-lucent best buy Black Friday brazilNews Short Sellers After-Hours Center Best of Benzinga
View Comments and Join the Discussion!