Job Cuts Higher in October; Pharmaceutical & Financial Sectors Took Biggest Hits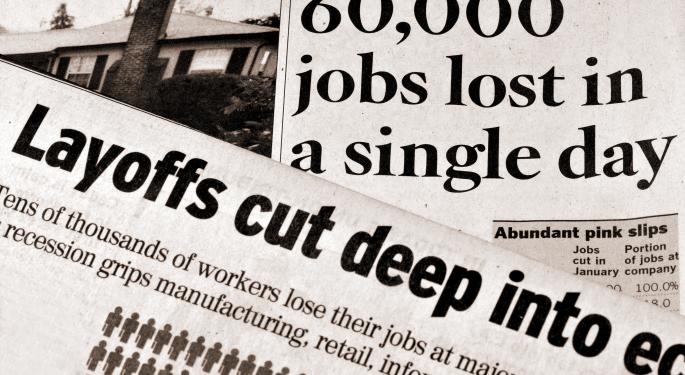 Another indication that while the overall economy may be recovering, the American workforce is still finding it difficult to stay fully employed.
Data released Wednesday by the outplacement consulting firm Challenger, Gray & Christmas reports the nation's employers announced plans to cut 45,730 jobs from their payrolls last month. That figure was up 13.5 percent from September.
Employers have, according to the report, made more than 433,000 job cuts since the start of 2013 – a figure that remained nearly unchanged from the number of job cuts announced during the first ten months of 2012.
The pharmaceutical and financial sectors reportedly saw the heaviest number of layoffs in October.
Of the 10,585 pharaceutical industry job cuts last month, the majority came from Merck (NYSE: MRK) – which announced it was laying off 8,500 employees as part of an effort to reexamine and renew its research and development operations. The Challenger, Gray & Christmas report notes that Merck, like many other pharmaceutical firms, is restructuring its workforce levels "towards drug with the highest potential to win regulatory approval and achieve successful sales levels."
Downsizing in the financial sector, according to the report, has been widespread – with more than 8,700 jobs cut in October and close to 57,600 employees laid off since January 1st. But paradoxically, according to Challenger, Gray & Christmas CEO John Challenger, the reduced workforce levels there are a direct result of an improving economy.
"Many banks, including Bank of America (NYSE: BAC),which announced 4,200 job cuts in October, are slashing positions in their mortgage department as the number of troubled mortgages and foreclosures dwindles," he said in a press statement. "Furthermore, improvements in the economy are also pushing interest rates back up, which is curbing demand for refinancing."
The healthcare sector is also going through a round of job reductions, according to the report – due to both shrinking Medicare reimbursements kicking in with the Affordable Healthcare Act and the federal spending cutbacks brought on by sequestration.
"The increased cuts we have seen recently are probably just the beginning," Challenger added. "If there is one thing both political parties agree on, it is the need to somehow slow the sky-rocketing cost of health care."
At the same time, the ongoing political and financial uncertainty on Capitol Hill, the report says, "is directly impacting consumer and employer confidence," – which, in turn, is adversely affecting employee hiring policies.
View Comments and Join the Discussion!
Posted-In: banking Challenger Economy financial sector Gray & ChristmasNews Economics General Best of Benzinga