New Way to Invest in Chinese Stocks (ASHR, FXI, CHNA, PEK)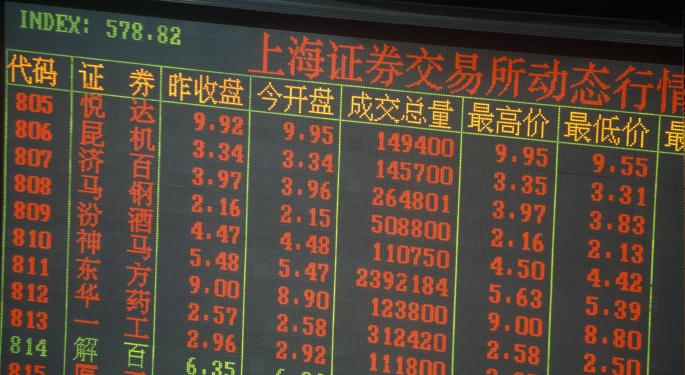 For the first time, American investors are able to gain access to China A-shares via an ETF.
Tuesday, Deutsche Asset & Wealth Management is launching the db X-trackers Harvest CSI 300 China A-Shares ETF (NYSE: ASHR). The ETF has received the approval to invest in the Chinese A-shares trade on either the Shanghai or Shenzhen exchanges.
The largest ETF to focus on China, with $5.35 billion in assets under management, is the iShares FTSE/Xinhua 25 ETF (NYSE: FXI). That ETF along with most other Chinese ETFs will invest in the H-shares that are either traded in Hong Kong, London, or New York.
The A-shares are equity securities issued by companies that are based in mainland China as well as denominated and traded in the Chinese renminbi. The government has strict restrictions on foreigners investing in the A-shares market, but with the partnership with China-based Harvest Fund Management, this ETF was able to come to fruition.
The ETF will seek to track the CSI 300 Index, which includes the 300 largest and most liquid securities trading on the Shanghai and Shenzhen stock exchanges. The companies that make up the index will not be household names to most investors. The top two holdings are Ping An Bank and China Vanke.
There are ETFs out there that are considered China A-share products. However they do not own the actual shares of the Chinese stocks. They track the A-share indices through a strategy that uses swaps on the A-share stocks. The two ETFs in this category are the Market Vectors China ETF (NYSE: PEK) and thePowerShares China A-Share ETF (NYSE: CHNA).
Investing in ASHR and the Chinese A-shares should garner a lot of attention from investors that want access to the restricted country. However, keep in mind that that Shanghai Composite is down 65 percent from the 2007 high and has yet to begin a noticeable rally from the lows. The argument on the other side is that the world's second largest economy is still growing over 7 percent per year and trades with a valuation less than that of the U.S.
From a long-term view it appears China is a combination of growth and value and an attractive investment opportunity. The question is timing. Should investors start to build a position today or wait for the Shanghai Index to begin a new uptrend? A short answer is buy some today and you can always add more if a new uptrend begins.
Posted-In: db X-trackers Harvest CSI 300 China A-Shares ETFNews New ETFs Emerging Market ETFs Global Trading Ideas ETFs Best of Benzinga
View Comments and Join the Discussion!