Benzinga's M&A Chatter for Monday November 4, 2013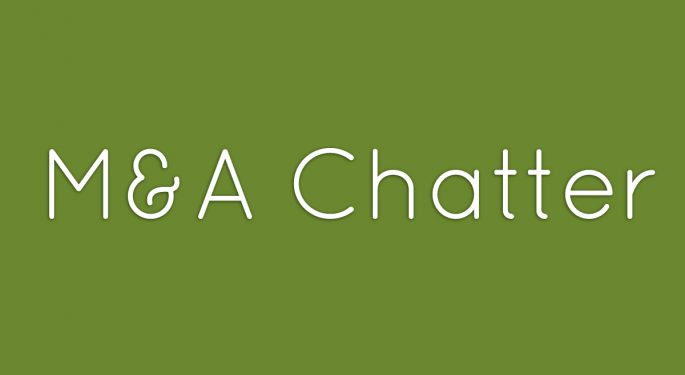 The following are the M&A deals, rumors and chatter circulating on Wall Street for Monday November 4, 2013:
Men's Wearhouse Says Jos A Bank Proposal Undervalues Co
The Response:
Shares of Men's Wearhouse (NYSE: ME) fell as much as 3% Monday, as the company's Board determined that Jos. A. Bank's conditional $48.00 per share offer significantly undervalues Men's Wearhouse. The Board concluded it was not in the best interest of shareholders to provide Jos. A. Bank with access to nonpublic information.
Jos. A. Bank responded stating: "we stand by our previous statement and will keep our proposal open until November 14, 2013." On October 31, Jos. A. Bank announced it was willing to consider raising the acquisition price it proposed to Men's Wearhouse on September 18, 2013 of $48 per share, if given the opportunity to conduct limited due diligence in order to determine that such an increase would be justified.
Men's Wearhouse closed Monday at $42.13, a loss of $1.20.
BlackBerry Ends Bid to Sell Company, Fairfax, Others Invest $1B, Heins Out
The End of Strategic Review:
Shares of BlackBerry (NASDAQ: BBRY) plummeted to $6.00 per share in the pre-market Monday, as the company announced that the review of strategic alternatives had ended without a sale. BlackBerry announced that John S. Chen would assume the role of Interim CEO, replacing Thorsten Heins.
Heins is scheduled to step down upon completion of a deal under which Fairfax Financial Holdings and other institutional investors will invest $1 billion in BlackBerry through a private placement of convertible debentures. Fairfax will acquire $250 million principal amount of the Debentures. The deal is expected to close within the next two weeks.
BlackBerry closed Monday at $6.49, a loss of more than 16%.
Anaren Agrees to be Acquired by Veritas Capital for $28.00/Share
The Deal:
Anaren (NASDAQ: ANEN) announced Monday Anaren will be acquired by an affiliate of The Veritas Capital Fund IV, L.P. for $28.00 per share in cash. The transaction is valued at approximately $381 million. The Independent Committee of Anaren's Board of Directors unanimously recommended and the Board unanimously approved the merger agreement.
Anaren closed Monday at $27.75, a gain of more than 11%.
Chatham Lodging Trust Confirms Receipt of Unsolicited Conditional $21.50/Share Proposal from BlueMountain Capital
The Receipt of Proposal:
Chatham Lodging Trust (CLDT) confirmed Monday that it has received an unsolicited conditional proposal from BlueMountain Capital Management to acquire the Company for $21.50 per share, subject to due diligence, financing, negotiation of satisfactory agreements and other conditions.
Chatham's Board of Trustees will review the proposal with its financial and legal advisors.
Chatham Lodging Trust closed Monday at $20.42 a gain of almost 9%.
Posted-In: News Short Sellers Rumors Management M&A Global Movers Tech
View Comments and Join the Discussion!