Benzinga Weekly Preview: Central Banks Back In The Spotlight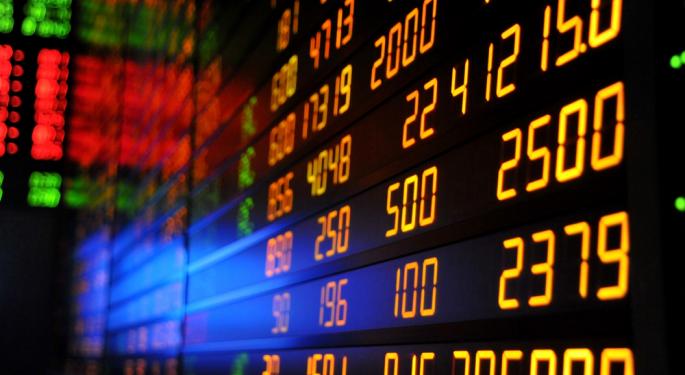 After the US Federal Reserve opted to maintain its bond buying plan but hinted that a taper could come sooner rather than later, investors turned back to US data for fresh clues about the bank's timeline. Investors will likely continue to focus on US data for signs of stability which would indicated that the world's largest economy is ready to stand on its own.
The European Central bank will also be closely watched as many wonder whether or not the bank will make policy changes in order to combat falling inflation. The meeting is set for Thursday, and most aren't expecting the bank to make any moves this month, however investors will be watching for forward guidance for December's meeting.
Key Earnings Reports
Next week investors will be waiting for several key earnings reports including Tesla Motors, Inc. (NASDAQ: TSLA), Time Warner Inc. (NYSE: TWX), CenturyLink, Inc. (NYSE: CTL), Groupon, Inc. (NASDAQ: GRPN)
Tesla Motors
Tesla is expected to report EPS of $0.11 on revenue of $535.41 million, compared to last year's loss of $0.92 per share on revenue of $50.10 million.
The analyst team at Morgan Stanley has an Overweight rating on Tesla with a $149.00 price target on October 18. The team did note that several risks apply, including government regulatory credits.
"Risks: Tesla is guaranteeing the value of its Model S in a lease-finance transaction, exposing the company to residual value risks 39 months out; Tesla's profit and cash flow depends on the continuation of key government initiatives such as regulatory credits; consumer acceptance of EVs and particularly Model S."
Bank of America has an Underperform rating on Tesla with a $45.00 price objective on October 23. The team at Bank of America said the company's shares are vastly overvalued and that investors should remain cautious.
"(We) believe it is worth considering what could occur when sentiment behind a momentum driven stock shifts. This appears to be slowly occurring, driven by factors such as the recent Model S battery fire and potential NHTSA probe, and speculation of a slowdown in the company's European expansion. In fact, TSLA shares are down roughly 12% from their 9/30 closing price of just over $193/sh. While the recent decline pales in comparison to the year-todate hyperbolic growth of the shares, it could foreshadow emerging cracks in the seemingly ironclad façade surrounding Tesla's stock."
Time Warner Inc.
Time Warner is expected to report EPS of $0.89 on revenue of $6.93 billion, compared to last year's EPS of $0.86 on revenue of $6.84 billion.
Bank of America a Neutral rating on Time Warner with a price objective of $70.00 on October 11, noting that the company's revenue will be driven by gains at networks.
"Key 3Q drivers include: (1) consistent affiliate fee growth at Networks (+5%), (2) healthy advertising growth at Networks (+8%)—aided by Olympic comps, (3) difficult theatrical comps (We're the Millers, The Conjuring and Pacific Rim vs. The Dark Knight and The Campaign), (4) tougher home video (The Great Gatsby and 42 vs. The Lucky One) and (5) continued Publishing headwinds. We project a slight sequential acceleration in buybacks, to $950mn (vs. $850mn in 2Q13), in the Q."
On October 11 the analyst team at JP Morgan an Overweight rating on Time Warner with a $75.00 price target. JP Morgan raised its estimate for Q3, noting positive ratings as well as ad trends.
"We expect good results and an upbeat outlook when Time Warner reports Q3 earnings on November 6. We are raising our Q3 EPS estimate from $0.88 to $0.90, up 7% y/y, reflecting healthy ad trends and solid ratings across most of Turner's networks despite more difficult comparisons at Film & TV Entertainment and Publishing. While our 2014 and 2015 EPS estimates come down modestly on lower affiliate revenue growth expectations, we still expect the company to deliver solid double digit EPS growth over the next several years, boosted by a stronger buyback."
CenturyLink, Inc.
CenturyLink is expected to report EPS of $0.63 on revenue of $4.51, compared to last year's EPS of $0.66 on revenue of $4.57 billion.
Jefferies a Buy rating on CenturyLink with a $40.00 price target in mid August. Jefferies sees CenturyLink moving toward revenue stabilization in the future with its investments in data centers and Prism TV.
"CTL reported mixed 2Q13 results. Revs were in-line, while operating CF was above estimates, however broadband net adds, access line losses, and capex were worse than forecast. CTL reduced FY guidance modestly. However, we believe CTL continues to inch closer to revenue stabilization as it invests in data centers, Prism TV, and FTTT. Meanwhile, CTL continues to buy back shares at a faster than expected rate. We reiterate our Buy rating and $40 PT."
Groupon, Inc.
Groupon is expected to report  EPS of $0.01 on revenue of $616.13 million, compared to last year's EPS of $0.03 on revenue of $568.55.
Ascendiant Capital Markets a Sell rating on Groupon with a price target of $8.00 on October 25. Ascendiant sees Groupon missing its revenue expectations and presenting weak Q4 guidance.
"We expect Q3 results slightly below our estimates, for revenue for $625 million and EPS of $0.01, and consensus, for revenue of $616 million and EPS of $0.01. Q3 guidance was for revenue of $585 - 635 million and operating income of $(10) - 10 million (which we estimate implies EPS of $(0.01) – 0.02). Groupon likely had continued high growth in its Goods business offset by a moderate decline in the daily deals industry in Q3 (which we estimate was down 10% from Q2)"
On October 30, Piper Jaffray took the opposite position with an Overweight rating on Groupon with a $15.00 price target. Piper Jaffray sees Groupon releasing earnings which show modest improvements for the third consecutive quarter.
"While there is debate as to how the September quarter will play out (some analysts expect a miss in Sep-13), we believe Sep-13 results (11/7 after the close), will represent the third consecutive quarter of modest improvements in fundamentals. While Groupon is far from out of the woods, we believe the strategy of shifting from daily deals to a deal marketplace is a viable long term business. We are less focused on Europe and Rest of World (ROW) wildcards given investor expectations are low for these segments."
Economic Releases
US data will be closely monitored for any indication that the Federal Reserve could taper sooner than expected. Non-farms payroll data is due out on Friday, which is expected to show the effects of the US government shutdown. The US unemployment rate will be another important indicator as the Fed previously said that a taper would be closely tied to falling unemployment figures.
Daily Schedule
Monday
Earnings Releases Expected: Black Hills Corporation (NYSE: BKH), CME Group Inc. (NASDAQ: CME), Leapfrog Enterprises (NYSE: LF), Hill International, Inc. (NYSE: HIL)
Economic Releases Expected: eurozone manufacturing PMI, British construction PMI, US factory orders, Chinese services PMI, Indian services PMI
Tuesday
Earnings Expected From: Frontier Communications Corporation (NASDAQ: FTR), GSI Group, Inc. (GSIG), Tesla Motors, Inc. (NASDAQ: TSLA), WageWorks, Inc. (NYSE: WAGE), DIRECTV (NASDAQ: DTV), Regeneron Pharmaceuticals, Inc. (NASDAQ: REGN)
Economic Releases Expected:  Australian trade balance, New Zealand's unemployment rate, Canadian trade balance, eurozone PPI, British services PMI
Wednesday
Earnings Expected From: CenturyLink, Inc. (NYSE: CTL), Tempur-pedic International Inc. (NYSE: TPX), ING Group, N.V. (NYSE: ING), Time Warner Inc. (NYSE: TWX), Duke Energy Corporation (NYSE: DUK), Humana Inc. (NYSE: HUM)
Economic Releases Expected: Australian unemployment rate, US CB Leading Index, eurozone retail sales, British Industrial and manufacturing production, eurozone services PMI
Thursday
Earnings Expected From: Priceline.com Incorporated (NASDAQ: PCLN), Ubiquiti Networks, Inc. (NASDAQ: UBNT), Bristow Group Inc. (NYSE: BRS), Groupon, Inc. (NASDAQ: GRPN), Scotts Miracle Gro Company (NYSE: SMG)
Economic Releases Expected: US GDP, US Consumer Credit
Friday
View Comments and Join the Discussion!
Posted-In: News Eurozone Previews Global Economics Federal Reserve Markets Trading Ideas Best of Benzinga