Benzinga's M&A Chatter for Thursday October 31, 2013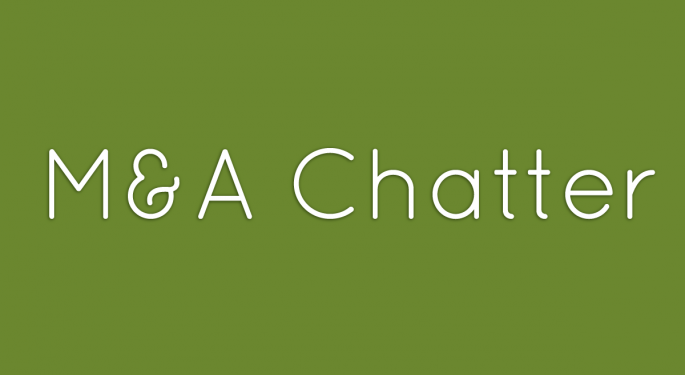 The following are the M&A deals, rumors and chatter circulating on Wall Street for Thursday October 31, 2013:
Jos A Bank Gives Men's Wearhouse Board Option of 'Good Faith' Talks Until November 14
The Ultimatum:
Shares of Men's Wearhouse (NYSE: MW) initially spiked above $45.00 on Thursday and then fell sharply as Jos. A. Bank (NASDAQ: JOSB) said it was considering raising its original $48 offer for its competitor, if Jos. A. Bank is given the opportunity to conduct limited due diligence in order to determine that such an increase would be justified. The announcement was made in a letter to Men's Wearhouse CEO Douglas Ewert.
The letter states that Men's Wearhouse must engage in good faith discussions by Thursday, November 14, 2013, the proposal will be terminated.
The NY Post reported later that Jos. A. Bank would not undetake a hostile bid for Men's Wearhouse.
Men's Wearhouse closed Thursday at $42.35, a loss of 3%, while Jos. A. Bank lost almost 4%, closing at $47.94.
Report AT&T Exploring Bid for Vodafone
The Rumor:
Shares of Vodafone (NASDAQ: VOD) spiked higher Thursday on a report from Bloomberg that AT&T (NYSE: T) is considering a bid to takeover the UK telecommunications company as early as 2014. Sources say the two companies have not entered formal negotiations, but AT&T is actively putting together a deal.
A spokesperson for AT&T declined comment on the report. A Vodafone spokesperson was not available.
Vodafone closed Thursday at $36.85, a gain of 1.5% on more than twice average volume.
Thor Acquires Bison Coach for $16.7M
The Deal:
Thor Industries (NYSE: THO) announced Thursdasy that, through a wholly-owned subsidiary, it has acquired the net assets of specialty trailer manufacturer Bison Coach from an operating unit of Navistar (NYSE: NAV) for approximately $16.7 million in cash.
Thor Industries closed Thursday at $58.01, a loss of $0.10.
View Comments and Join the Discussion!