New Advice for Apple's Tim Cook: Buy Tesla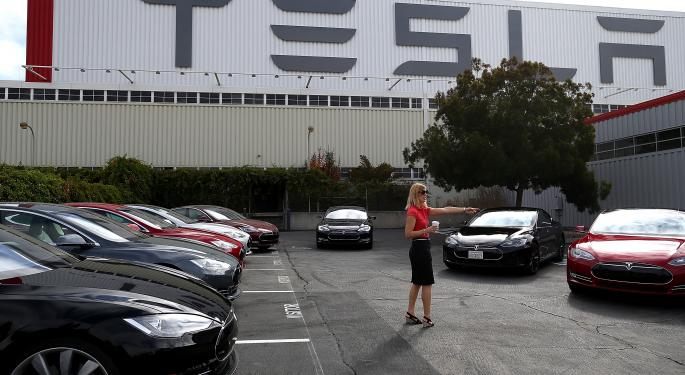 Apple (NASDAQ: AAPL) CEO Tim Cook might be wishing for more mail from Carl Icahn, especially after the open letter he got from analyst Andaan Ahmad at Berenberg, a German investment bank.
In the letter, also addressed to Apple Chairman, Arthur Levinson, Ahmad called on the Cupertino, California company to buy electric car manufacturer Tesla (NASDAQ: TSLA). Ahmad said he has covered tech for almost 20 years and believes a shift into the automotive sector would help Apple create sustainable revenue growth, something that smartphones and other mobile devices simply won't support long-term.
Ahmad's main theme was that Apple's strength lies in its ability to "disrupt" in the way it has done in computers, tablets, smartphones, and music. Because of this, Ahmad said the company should buy Tesla and help the automotive industry transition fully into hybrid and electric vehicles.
Autoblog pointed out that Tesla would not be an easy takeover target. It has a strong proven record of independence – not to mention a charismatic CEO in Elon Musk who has managed to grow the company quickly enough to avoid being bought out so far.
Nonetheless, Autoblog said, the idea has merit. Bringing Musk into the Apple "family" could provide what many believe is the innovation spark that has been missing since the death of Steve Jobs.
Since then, Apple has done a decent job of upgrading existing products but little in the way of forging new frontiers or as Cook has hinted at repeatedly, entering "exciting new product categories."
Related: What is Apple's Tim Cook Hinting at for 2014?
In his letter, Ahmad discussed three of the most often mentioned areas of new revenue growth for Apple, a high-definition television set, a smartwatch, and "monetization of its ecosystem." With each, Ahmad laid out the pluses and minuses, eventually concluding that none of them compare (in terms of sheer revenue potential) with a bold move into the auto industry.
Ahmad's suggestion doesn't just benefit Apple. As Autoblog pointed out, Tesla could use the backing of a large, powerful company like Apple, especially given the company's success in retail, in creating a total makeover of Tesla's direct-sale system.
Others, including ValueWalk, expressed skepticism. For one thing, the website posited, while Apple could probably be successful in creating both devices and services that would be useful to the industry, the notion of Apple ever building vehicles of its own might be a bridge too far.
In addition, ValueWalk questioned whether Musk would give up his position and independence to become a partner (employee) with Apple.
Ahmad admitted his proposal would be subject to ridicule. On the other hand, Ahmad pointed out, in his opinion Apple needs to think "outside the box" or risk becoming part of what he called the "consumer technology industry graveyard."
At the time of this writing, Jim Probasco had no position in any mentioned securities.
Posted-In: Andaan Ahmad Apple Arthur Levinson BerenbergNews Rumors Events Media Best of Benzinga
View Comments and Join the Discussion!