Benzinga's M&A Chatter for Tuesday October 29, 2013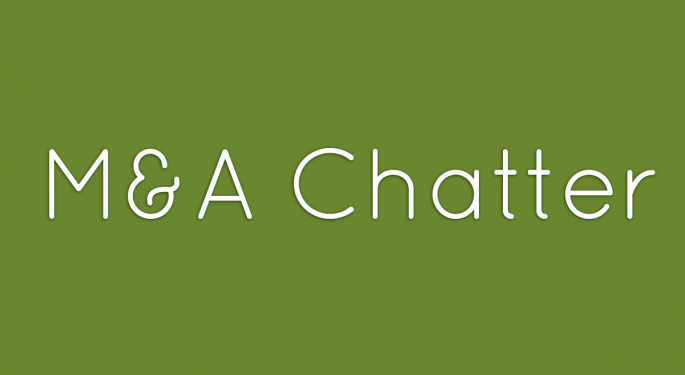 The following are the M&A deals, rumors and chatter circulating on Wall Street for Tuesday October 29, 2013:
Report BlackBerry Met with Facebook to Gauge Interest
The Rumor:
Shares of BlackBerry (NASDAQ: BBRY) moved higher Tuesday on a report from Dow Jones that executives of the company have met with Facebook (NASDAQ: FB) to discuss possible interest from the social networking site. There have been rumors in the past about a possible Facebook phone, though such a project has been denied by CEO Mark Zuckerberg.
BlackBerry closed Tuesday at $8.31, a gain of almost 1.5%.
Blyth Confirms Unsolicited $16.75/Share Offer from CVSL
The Offer:
Blyth (NYSE: BTH) confirmed Tuesday that it has received an unsolicited proposal from CVSL (OTC: CVSL) to acquire all of the public common shares of Blyth for $16.75, payable in CVSL shares or cash. Blyth will review the proposal.
A source close to CVSL, responding to a Seeking Alpha post, told Benzinga on September 25, that the article content, which mentioned CVSL was building a position in Blyth was very consistent with the company's M&A strategy.
Blyth closed Tuesday at $14.47, a loss of 6.5%. CVSL gained 24%, closing at $0.74
Rockwell Automation to Acquire vMonitor
The Deal:
Rockwell Automation (NYSE: ROK) today announced that it has agreed to purchase vMonitor. The deal is expected to close within two months.
Rockwell Automation closed Tuesday at $110.91, a gain of more than 1%.
View Comments and Join the Discussion!