A Little Bird Told Me… Analysts Comment on Conservative Twitter IPO Valuation and Long-Term Conviction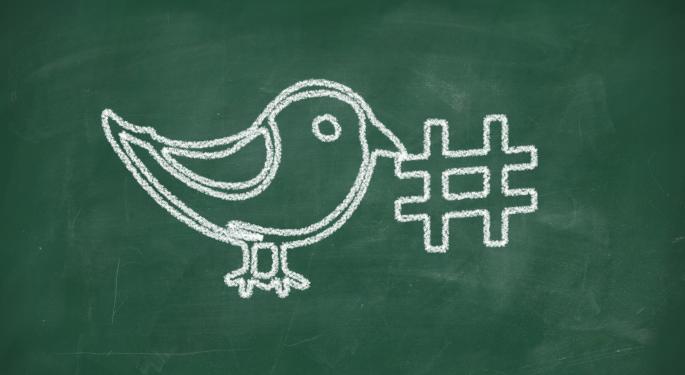 Twitter Inc. (NYSE: TWTR) revealed its initial public offering valuation of $11B, a more conservative valuation than analysts expectation of $15B.
Twitter hopes to avoid a stock plummet similar to Facebook's IPO and intends to sell 13 percent of the company, or 70 million shares in the range of $17-$20 to raise $1.4B for the company.
It is rumored that Twitter shares could start trading at early as November 7.
Phil Pearlman, interactive editor for Yahoo! (NASDAQ: YHOO) finance and partner at Social Leverage, LLC, tweeted about the IPO:
@BenzingaPro itll be great for the company in terms of providing resource flexibility. it will also put pressure on them to grow traffic...

— Phil Pearlman (@ppearlman) October 25, 2013
@BenzingaPro and revenue over shorter time frames which can be a negative or positive depending upon how the execute under increaqsed stress

— Phil Pearlman (@ppearlman) October 25, 2013
Howard Lindzon, StockTwits CEO and Co-founder, had a different perspective on "The Anti-Froth IPO" in his blog. He wrote, "Twitter does not NEED cash. They don't deserve more cash than they already have. They have crowdsourced in a bullying and creative way most of the value of the real-time streams (to date) already. It's by no means unfair or a monopoly but let's just call it like it is. If they can't make this work on what they have, let's just do the Harvard case study and move on."
SunTrusts (NYSE: STI-A) analyst Robert Peck agreed with other analysts that Twitter's IPO is overly conservative in his note.
Peck further commented on Twitter's long term conviction, noting "Since Twitter's original S-1, the company has updated its financials, and we note a few other important points for investors to consider: 1) Twitter reported its 3Q earnings showing ad revenues accelerated to 123% growth from 113% in 2Q; 2) Twitter's MoPub platform, while modest in size currently, grew revenues 3x in 1H 2013 over FY2012 and ad auctions are up 11% sequentially; 3) Twitter secured a $1b facility at extremely attractive rates, and 4) company will have a strong balance sheet with ~$1.8b of cash and no debt after the IPO."
In Joshua Brown's blog, 'The Reformed Broker,' the New York City-based financial advisor at Ritholtz Wealth Management reminds investors and the public, "To be clear, Twitter doesn't actually have any peers - the closest one is probably Facebook but even that is problematic from many angles."
Brown further noted that it is useful to "get a sense of where Twitter's IPO valuation will place it among the handful of social stocks that now exist." Brown reiterated Robert Peck's social stock comparison, where Peck stated 10x 2014 EV/ Revenue multiple and 6x multiple compared with, "similar fast growers like Facebook, LinkedIn, Yelp, and Zillow of ~17x current EV/Revenue multiples."
Twitter will commence a two-week road show next Monday with stops including New York, Boston, Chicago, Denver, San Francisco and Los Angeles to inspire prospective investors.
Some of the larger investment firm shareholders include a 17.9 percent stake quietly amassed by Rizvi Traverse and a 10.3 percent stake by JP Morgan Chase (NYSE: JPM).
After the sale, the stakes will fall to 15.6 percent and nine percent, respectively. Co-founder Evan Williams holds a 10.4 percent stake (a reduction from 12 percent) as the largest individual shareholder. Dick Costolo, Twitter's Chief Executive, will hold a 1.4 percent stake after the sale.
Posted-In: Joshua Brown Phil Pearlman Robert Peck SunTrustNews IPOs
View Comments and Join the Discussion!