How Are Home Builders Holding Up?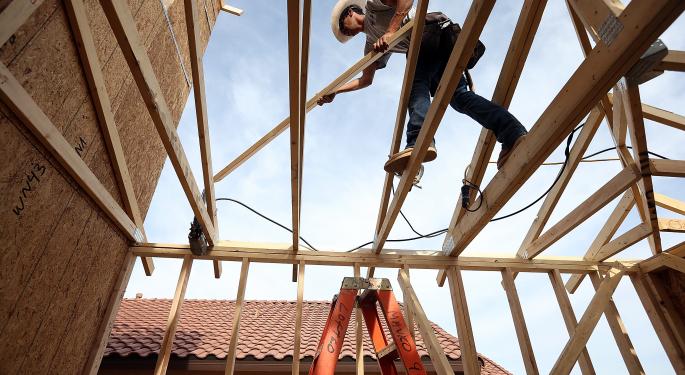 Investors watching the homebuilders market are starting to see the development of an interesting trend.
Many of the privately-owned homebuilder companies are expressing interest in going public, and taking steps to file prospectuses that begin the process of making shares available for sale to the public. It is of course nothing new to see privately owned companies in a particular market shift to publicly traded entities. But the homebuilders market is particularly intriguing because of the level of interest investors have shown recently in builder stocks.
That interest,combined with the fact that the sales as well as the prices of new homes are on the upswing, make the homebuilder market one of the most appealing on Wall Street in recent memory.
Despite the fact that October has been a somewhat challenging month for homebuilders, there has been a 70 percent increase in the Dow Jones U.S. Home Construction Index so far this year. The Index tracks the progress of homebuilders that are traded publicly and compiles and analyzes the data.
Publicly traded homebuilder stocks have been showing a general performance trend nearly double their respective book values, which indicates private companies are not worth anywhere near as much as public ones in this particular market. KB Home (NYSE: KBH) and Toll Brothers (NYSE: TOL) are two of the leading public homebuilder companies -- and yet many analysts expect that, if a private company like Taylor Morrison completes its IPO, these industry leaders would suddenly be brought down a peg or two.
It has been 15 years since a private homebuilder has gone public but Taylor Morrison, along with Woodside Homes in Texas, William Lyon Homes in California and Dominion Homes Inc. in Ohio all have been reported as having their eyes set on going public in the next three to five years. They are probably not encouraged by the way homebuilder Lennar(NYSE: LEN) has fared, as it is down slightly for the year.
The recent downturn in the global economy obviously had a detrimental effect on just about every market imaginable -- and it hit the housing market particularly hard. But since analysts are seeing the initial stages of a turnaround in that regard, it is expected that--  as hard as the housing market was hit back in 2008 -- it will have a resurgence equal to or perhaps even greater than its downfall.
Investors have, of course, shown a tendency to shy away from homebuilder companies over the last five years exactly because of what happened in 2008, and no one can blame them. But as more and more private companies begin to keep a watchful eye on the equity markets, in order to determine the viability of going public, word is getting around that these are likely going to be among the strongest stocks to snatch up if and when they do complete their IPOs.
But in all likelihood, the trend of homebuilders going from private to public will be something of a trickle early on. Still, it is a market that investors need to make themselves aware of and, while the last five years have been spent largely avoiding homebuilders, or at least not giving them much more than a passing glance, expect the next five years to see the homebuilders market become the Belle of the Ball.
Posted-In: construction homebuilders homes public company Real EstateNews Commodities Markets Best of Benzinga
View Comments and Join the Discussion!