Panera Attempting to Speed Up Service (PNRA)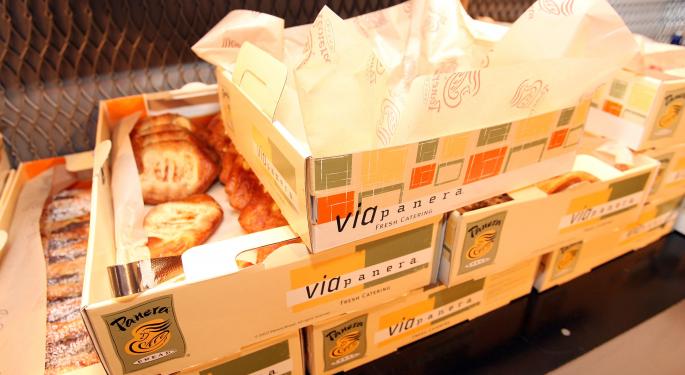 Panera (NASDAQ: PNRA) is a fast-casual restaurant chain with a problem. It isn't fast enough.
The reasons are many. There are not enough employees. Equipment isn't adequate to handle the workload, and telephone and fax orders create disruption. According to Bloomberg, after a long wait, customer orders are often wrong.
The problems are showing up in Panera's bottom line. Comparable sales last quarter grew 1.7 percent at company-owned stores and just 0.9 percent at franchised restaurants. What little growth there was mostly came from increased menu prices.
Competition is fierce. Panera Chief Executive Ronald Shaich, on an earnings call said, "You've got fast-food trying to beat Panera. You've got casual dining." The company is facing attacks from all sides.
Much of what's troubling Panera has to do with public perception of what fast-casual means. In theory, fast casual is supposed to be a notch above regular fast food in both quality and menu complexity. Consumers know this and accept the fact that service will be slower at Panera than at McDonald's (NYSE: MCD) or Wendy's (NASDAQ: WEN).
Related: McDonald's Fights Slow Sales By Changing Dollar Menu Name
When it's a lot slower, however, customers become impatient. Impatient customers become infrequent customers and eventually former customers.
Panera is not alone. Chipotle (NYSE: CMG) CEO, Monty Moran told investors that a common complaint the company hears has to do with the need to wait in a long line to get food. Because of this, the company is seeking ways to speed up service with extra personnel in both the food and serving lines.
Extra people, of course, cost money. Panera said its plan to add 35 hours of labor per week to each company store would cost nearly $15 million. Additional production equipment will also add expense. In Panera's case, the company may have little choice.
Other solutions include moving all catering to catering hubs, a process that the company estimates will take years to complete. In addition, the company hopes to encourage a shift to online ordering, as opposed to telephone orders.
Meanwhile, Imperial Capital lowered its price target on Panera from $212 to $205 Monday. Reiterating a Buy rating, analyst Robert M. Derrington said, "We believe Panera Bread will likely not prove immune to recent weak industry trends and we are lowering our projections for 2013 and 2014 EPS."
Derrington added that despite stiff competition and slower consumer spending, Imperial Capital believed Panera management was "in the early stage of laying the 'innovation' foundation for its next 5-year increase in SSS and EPS."
At the time of this writing, Jim Probasco had no position in any mentioned securities.
Posted-In: catering hubs Chipotle fast-casualNews Restaurants Events Media General Best of Benzinga
View Comments and Join the Discussion!