Benzinga's M&A Chatter for Monday October 21, 2013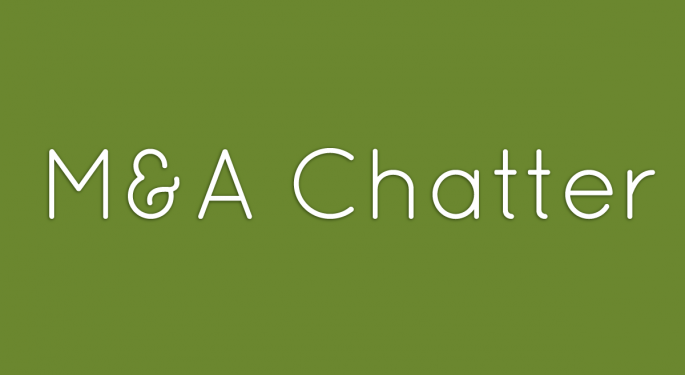 The following are the M&A deals, rumors and chatter circulating on Wall Street for Monday October 21, 2013:
Marlin Equity Partners to Acquire Tellabs for $2.45/Share in Cash
The Deal:
Tellabs (NASDAQ: TLAB) announced Monday that it has agreed to be acquired by entities of Marlin Equity Partners for $2.45 per share in cash. Under the terms of the agreement, a Marlin affiliate is required to commence a tender offer no later than November 1, 2013.
The deal is expected to close in Q4 2013.
Tellabs closed Monday at $2.46, a gain of 4.5%.
Devon, Crosstex Energy to Combine Midstream Businesses
The Deal:
Devon Energy (NYSE: DVN), Crosstex Energy (NASDAQ: XTXI) and Crosstex Energy, L.P. (NASDAQ: XTEX) announced Monday they have agreed to combine substantially all of Devon's U.S. midstream assets with Crosstex's assets to form a new midstream business. The new company, to be named prior to the closing, will consist of two publicly traded entities, a Master Limited Partnership and a General Partner entity.
Under the terms of the agreements, Devon will contribute its equity interest, valued at $4.8 billion, in a newly formed Devon subsidiary, plus $100 million in cash. The Master Limited Partnership and the General Partner will each own 50% of Devon Holdings. Current stockholders of Crosstex Energy will receive one unit in the General Partner entity for each share of Crosstex Energy they own, as well as a one-time cash payment at closing of approximately $2.00 per share or $100 million in aggregate.
The deal is expected to close in Q1 2014.
Crosstex Energy, LP closed Monday at $21.23, a loss of more than 1%, Crosstex Energy closed at $35.32, a gain of more than 71% and Devon Energy closed at $65.32, a gain of more than 3%.
View Comments and Join the Discussion!