End of an Era? Boeing Cuts Back Production of its 747s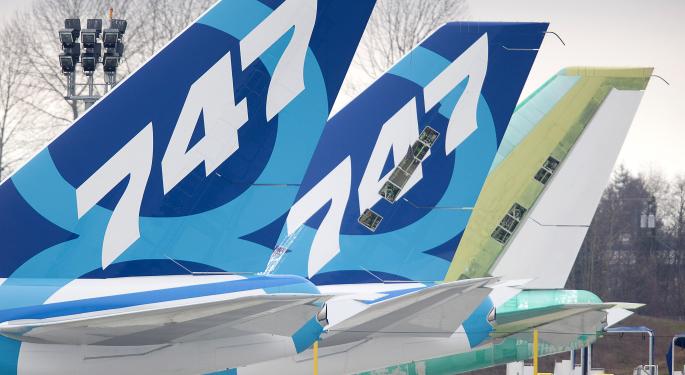 For more than 40 years, it's been an iconic part of American business – and has been Air Force One, transporting the American president.
But now, after transporting over 5.6 billion people all over the world, demand for the Boeing (NYSE: BA) 747 appears be in its final glide path.
Late last week, Boeing announced it was adjusting the production rate for its 747-8 program down to 1.5 aircraft per month through 2015 – due to lower market demands for both the passenger and cargo freight versions of the jets.
"This production adjustment better aligns us with near-term demand while stabilizing our production flow, and better positions the program to offer the 747-8's compelling economics and performance when the market recovers," Eric Lindblad, vice president and general manager of the company's 747 program, said in a press statement. "Although we are making a small adjustment to our production rate, it doesn't change our confidence in the 747-8 or our commitment to the program."
The 747 was considered a breakthrough passenger jet for its size and long range when it first entered commercial service in 1970. It's also Boeing's most expensibe plane to build, with a list price of over $350 million, making it a long-term cash cow for the company.
In recent years, however, the famed Jumbo Jet has been facing competition from both the Airbus (OTC: EADSY) 380 – which has a larger seating capacity and flight range – and from Boeing's more fuel-efficient 777 and 787 jets. And for many airlines, in an age of rising energy costs, good fuel efficiency is an important factor when considering the next aircraft they purchase.
Boeing says it expects long-term growth in its air cargo market to to "begin returning" next year, while forecasting global demand for 760 large airplanes like the 747 over the next 20 years, at a value of $280 billion.
But there's little doubt the 747's dominance of long-distance commercial air travel has lessened.
"Market forecasts say [Boeing] never valued too much the very large aircraft sector," Gregory Alegi, an aviation management professor at the Luiss University in Rome told The International Business Times earlier this year. "Given the forecasts, they have decided long ago to just update the old 747. It's a niche market that they want to be in, but one they don't want to invest in."
View Comments and Join the Discussion!
Posted-In: aircraftNews Contracts Travel Economics Trading Ideas Press Releases General Best of Benzinga