Starbucks Comes Under Official Chinese Criticism For Prices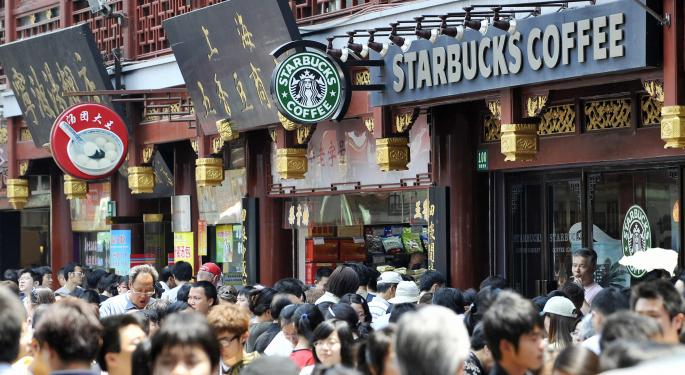 Think the cost of your Starbucks (NASDAQ: SBUX) latte is too much?
Well then, take a moment to consider Chinese consumers – who are apparently up in arms about what they're paying for a cup of the high-end coffee.
And state-run Chinese media has joined in the criticism of the Seattle-based company; just the latest in a series of offical Chinese reactions against some overseas companies doing business in the People's Republic.
On Sunday, Central China Television (CCTV) aired a brief documentary called "Starbucks: Expensive in China." CCTV's English-language web site says the program calls into question what it describes as the company's "unreasonable price setting in China."
CCTV notes a consumer in China has to pay 27 yuan, about $4.42, for a Tall, 12-ounce Starbucks latte – compared to around $3.00 in the U.S. Considering that that average yearly salary in Beijing in 2011 was around $730 U.S. in 2011, it may be surprising that anyone can afford a Starbucks beverage in China to start with.
But China's middle class, and its demands for trendy western products, continues to boom. And CCTV says Starbucks has opened over 1,000 stores in China since 1999 and expects the to have 1,500 of its cafes in over 70 Chinese cities by 2015, making the People's Repubic its largest market outside of the U.S.
The network adds the company's operating margin in its Chinese and Asian Pacific markets was over 36 percent in the third quarter of this year, "much higher than its 16.4 percent global operating margin."
In a statement quoted by The Wall Street Journal, Starbucks says it "understands the concerns raised by recent Chinese media," but adds the figures quoted do not represent the company's actual Chinese operations.
Official criticism of overseas companies operating in China is not unusual. The Journal notes Abbott Laboratories (NYSE: ABT) and several other overseas infant forula producers lowered their prices over the summer, after the government investigated their pricing structures.
And this past April CCTV and the People's Daily newspaper took Apple (NASDAQ: AAPL) to task over complaints regarding the company's repair policies in China.
Some analysts believe Starbucks and other non-Chinse companies are being targeted for official criticism due to their success with the nation's consumers.
"For the past few months, I've been very concerned about...any foreign-owned company, " Kevin Yeong, managing director of the Benchmark Asia Research Group, told the French news agency AFP, "because it looks like the local government is trying to do something to restrict foreign companies,"
"It's not uncommon for high-profile foreign companies to attract more attention from the Chinese authorities than their local rivals," James Button, a senior manager with the Shanghai-based business consultancy SmithStreet told the South China Morning Post. "We've seen it with Apple, Wal-Mart(NYSE: WMT) and (French retailer) Carrefour (PAR: FR:CA). It's a cost of doing business in China."
View Comments and Join the Discussion!
Posted-In: ChinaEmerging Markets Commodities Restaurants Global Markets Trading Ideas General Best of Benzinga