Mexican Govt. Looks to Pull the Nation's Sweet Tooth with a Junk-Food Tax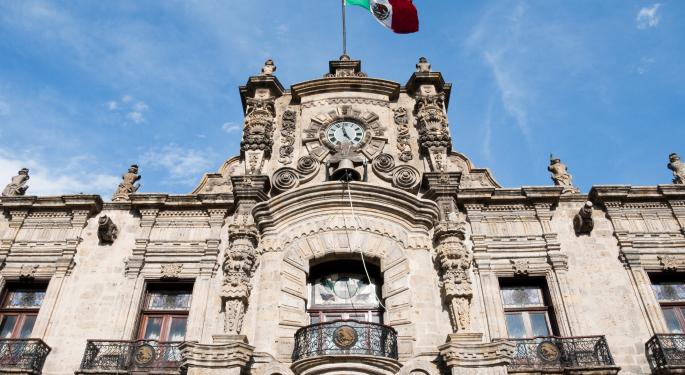 Americans may get bad press for being fatties, but our southern neighbors are giving us a run (or maybe a slow walk?) for the money.
Statistics from the Organization for Economic Co-operation and Development (OECD) say close to 70 percent of Mexicans ages 15 and older are overweight while nearly one-third of the population is obese – which is creating a slew of long-term health issues, like adult-onset diabetes. And Mexico's government is saying ¡Ya basta!, enough is enough.
Late Thursday, the nation's lower house of Congress passed a controversial measure to charge a five percent tax on some high-calorie snack foods. The Mexican Senate is expected to approve the bill, which has set off a loud debate between food companies and health activists.
Mexico's plan to wean its citizens off junk foods "appears to be the most aggressive strategy anywhere in the world in recent years to improve diets via tax disincentives," Michael Jacobson, executive director of the Center for Science in the Public Interest in Washington, told The Wall Street Journal.
But the bill's opponents say the tax would endanger millions of jobs in Mexico, all along the food and sugar production chain. In an interview with The New York Times, the director of Anprac, Mexico's $15 billion soft drink industry, said the government had not properly "evaluated the collateral damage of this inefficient tax" – which if enacted, he said, would simply drive Mexicans to make sweet drinks at home.
Mexicans have a well-established love of candies, pastries, fried foods and sugary soft drinks. And that love, notes the WSJ, has boosted revenues for beverage and snack food producers like Coca-Cola (NYSE: KO) and PepsiCo (NYSE: PEP). It's also helped Grupo Bimbo (OTC: GRBMF) , the Mexico City-based owner of America's Sara Lee brand, become one of the giants in the multinational packaged foods industry.
But even if the junk food tax is enacted in Mexico, many doubt it will seriously curb the country's sweet tooth."People will continue to sell and buy Coca-Cola for the rest of our lives," Rafael Venegas, who has a corner store in Mexico City, told the Times. "We have it in our DNA."
Posted-In: News Guidance Emerging Markets Commodities Politics Restaurants Economics Markets Best of Benzinga
View Comments and Join the Discussion!