Taxpayers Foot $1.2 Billion Public Assistance Bill for McDonald's Employees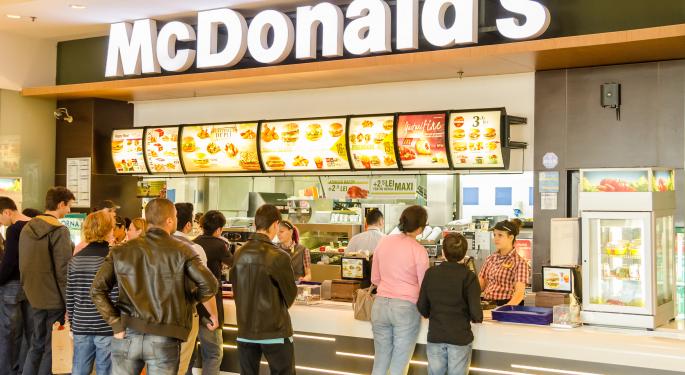 Each year, U.S. taxpayers pay out $1.2 billion in public assistance to workers at McDonald's (NYSE: MCD), according to a study released Tuesday by the National Employment Law Project.
The NELP study used data from another one conducted by economists at the University of California-Berkeley and the University of Illinois that found slightly more than half of all fast food workers count on some form of public assistance, costing taxpayers about $7 billion annually.
According to NELP, publicly provided benefits that go to employees of other fast food companies include $648 million to workers at Yum! Brands (NYSE: YUM), which includes Pizza Hut, KFC, and Taco Bell, and $436 million to employees of privately owned Subway.
Both the NELP and UC Berkeley/University of Illinois studies charge that the reason taxpayers are left to pick up this large subsidy tab is due to "low wages" paid to workers by corporations that earn billions in profit each year.
The NELP study said that the seven largest publicly traded fast food companies combined earned $7.44 billion in profits last year. Furthermore, they paid $52.7 million to their highest paid executives and distributed $7.7 billion in dividends and buybacks.
McDonald's CEO Don Thompson received a compensation package worth $13.8 million, more than three times the $4.1 million he received in 2011.
Related: McDonald's Fights to Regain Customers and to Counter Worker Wage Criticism
In addition to McDonald's and Yum! the rest of the top seven public fast food corporations are Burger King (NYSE: BKW), Wendy's (NASDAQ: WEN), Dunkin' Donuts (NASDAQ: DNKN), Sonic (NASDAQ: SONC), and Domino's Pizza (NYSE: DPZ).
Every story, of course, has two sides. Responding to the UC/UI study, the National Restaurant Association argued that Berkeley and UI researchers inflated their findings by treating the Earned Income Tax Credit as a subsidy, according to the Huffington Post.
McDonald's released a statement saying, in part, "As with most small businesses, wages are based on local wage laws and are competitive to similar jobs in that market."
In a statement reported by Business Insider, Michael Saltsman, research director at the Employment Policies Institute criticized the UC/UI study.
"In its quest to unionize the fast food industry," Saltsman said, "the SEIU (Service Employees International Union) has demonstrated that it will leave no stone unturned — including using 'research' and arguments that would get a higher grade in creative writing than in a high school economics class."
Sylvia Allegretto, co-chair of the Berkeley Center on Wage and Employment Dynamics and an author of the UC/UI study said, "A very easy policy fix here would to raise the minimum wage. The firms that pay a large share of their workers at or near the minimum wage -- these workers disproportionately have to rely on public subsidies."
Meanwhile, although 52 percent of fast food workers receive some form of public assistance, only 25 percent of the total workforce gets such benefits.
At the time of this writing, Jim Probasco had no position in any mentioned securities.
View Comments and Join the Discussion!
Posted-In: Berkeley Center on Wage and Employment Dynamics Burger King Domino's Pizza Don Thompson Dunkin' DonutsNews Events Media Best of Benzinga