Benzinga's M&A Chatter for Wednesday October 16, 2013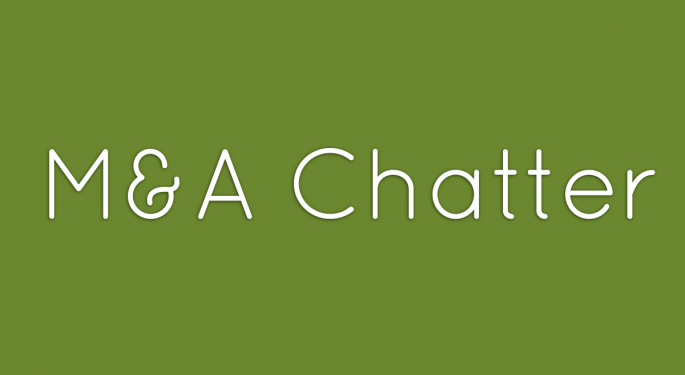 The following are the M&A deals, rumors and chatter circulating on Wall Street for Wednesday October 16, 2013:
Rumor Baidu in Talks to Acquire Ku6 Media, Renren Unit
The Rumor:
According to Marbridge Daily, Baidu (NASDAQ: BIDU) is rumored to be in talks to acquire Ku6 Media (NASDAQ: KUTV) and Renren's (NYSE: RENN) video-sharing site, 56.com. Ku6 shares are up 100% since the beginning of October.
A spokespersons for Baidu declined comment on the rumors.
Baidu closed Wednesday at $150.20, a loss of $1.30.
Jos A Bank Wants 'Friendly' Deal with Men's Wearhouse
The Chairman Comment:
Shares of Men's Wearhouse (NYSE: MW) moved higher late Wednesday, following a comment from Jos. A Bank (NASDAQ: JOSB) Chairman Robert Wildrick that could mean a hostile takeover bid is possible. Wildrick said: "We want this to happen on a friendly basis, but at this point we have not ruled anything out."
Men's Wearhouse rejected at $48.00 per share bid from Jos. A Bank on October 9.
Men's Wearhouse shares closed up 2% Wednesday, at $46.24.
America Movil Withdraws Bid for KPN
The Withdrawn Offer:
Carlos Slim's America Movil (NYSE: AMX) announced Wednesday it would not pursue an increased stake in Dutch telecom company KPN (OTC: KKPNY), although it did receive authorization from the Dutch regulator. AMX said also it was not certain about its plans for its existing stake in KPN.
América Movil had launched a $9.7 billion tender offer in August for the 70% of KPN that it didn't already own. A KPN independent foundation used a protective measure to gain control of almost 50% of KPN's stock, effectively blocking the AMX bid.
America Movil closed at $21.75 Wednesday, a gain of 4%.
View Comments and Join the Discussion!