Do Bonuses for Chilean Copper Workers Mean a Commodities Boom is Coming?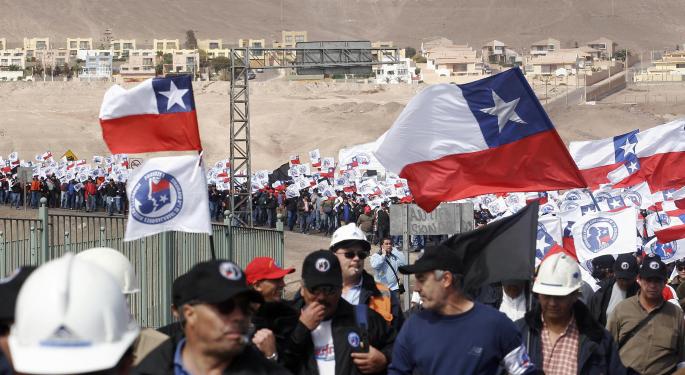 While the rescue of underground copper miners at the San Jose facility in Chile captured the world's attention in 2010, but the industry is now working to keep those miners happy. BHP Billiton (NYSE: BHP), according to an article in Bloomberg Businessweek, is now using high salaries and generous bonuses to retain its experienced workers.
The reason those vetern copper miners in Chile are pulling down six-figure pay packages is due, in large part, to the Chinese demand for copper. As the largest consumer of copper in the world, China needs the for piping, wiring and other building and industrial usage.
With the exchange traded fund for copper, iPath DJ-UBS Copper (NYSE: JJC), up more than 2 percent for the month after falling almost 13 percent for 2013, it certainly appears as if China's economy could be on the road to recovery. And if that is indeed the case, there could be a global commodities boom coming next
China in the world's largest consumer of many products, ranging from energy to luxury goods to material commodities. Copper is the most basic industrial good: it is needed in nearly all construction. If Chilean copper miners are making more money due to a higher demand, then that same buying from China will be drive up the price of many other industrial metals.
That is certainly needed, as the commodities market has still not recovered from The Great Recession.
Coal and steel are two obvious examples. The exchange traded fund for coal, Market Vectors Coal (NYSE: KOL), is trading close to $20 a share. In 2008, it was near $60. It is the same story for steel: the exchange traded fund, Market Vectors Steel (NYSE: SLX), is now around $47. Back in 2008, it was over $100.
The main exchange traded fund for China, FTSE China 25 (NYSE: FXP), is up more than 14 percent for the last quarter. That is certainly a positive sign for the economy of the People's Republic of China. The $30,000 signing bonus being given to workers in the copper industry in Chile is an even more bullish indicator for the commodities markets around the world.
Posted-In: Atacama Desert Chile ChinaNews Emerging Markets Commodities Global Markets Best of Benzinga
View Comments and Join the Discussion!