Can General Motors Poach Tesla Consumers With The Cadillac ELR? (GM, TSLA)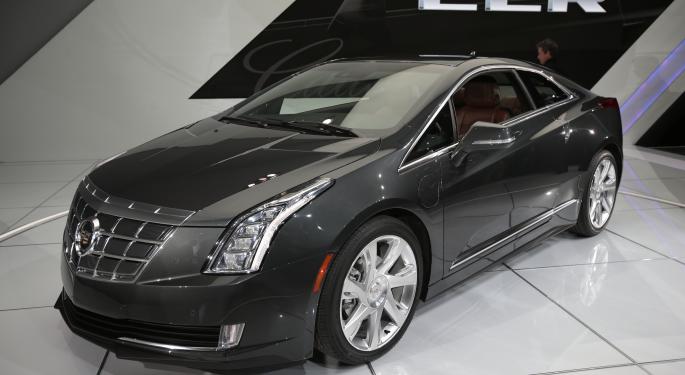 Hot on the heels of its 2015 Escalade debut, Cadillac continues to loudly beat the marketing drum; this time by announcing its entry into the luxury plug-in hybrid market with the Cadillac ELR.
Sales will begin in January of what the company calls an "electrified luxury coupe." The ELR is not for the financially faint of heart, however. It has a starting price of nearly $76,000, although buyers may be eligible for a federal tax credit of up to $7,500.
The ELR has all the high-end bells and whistles you'd expect in a Cadillac, including a driving range of over 300 miles, four different driving modes, plush interior features and Lane Departure and Forward Collision alert systems. Analysts say the ELR is an obvious attempt by General Motors(NYSE: GM) to poach the growing market for the Tesla Motors (NASDAQ: TSLA) Model S, although that sedan has a lower base price of $62,400.
Car and Driver points out the ELR's powertrain shares a lot of similarities to the Chevrolet Volt, another plug-in hybrid which has a longer driving range and goes for aobut half of the ELR's price tag.
Alec Gutierrez, a senior analyst at Kelley Blue Book, notes that while most car-buyers find the top-end electric vehicles far out of their economic reach, "Tesla has established that there are buyers willing to shell out top dollar for an electric vehicle that offers cutting edge style and technology so Cadillac will need to find a way to tap into that market to be successful."
Another KBB senior analyst, Karl Brauer, has his doubts about whether enough car-buyers in this uncertain economy will be drawn to the ELR.
"Cadillac can't deny the pricing reality we've seen with other advanced hybrid and electric vehicles," he said. "Consumers have traditionally balked at the price premium these cars require over equivalent, non-hybrid vehicles, and this has forced a wave of price reductions."
And while the company may be hoping to capture some would-be Tesla's consumers looking for a new, alternative energy driving experience, "I'm not sure that level of enthusiasm, and pricing, will transfer to the ELR." he added.
View Comments and Join the Discussion!
Posted-In: CadillacNews Events Analyst Ratings Tech Trading Ideas Interview Press Releases Best of Benzinga