Where to Find Holiday Jobs This Season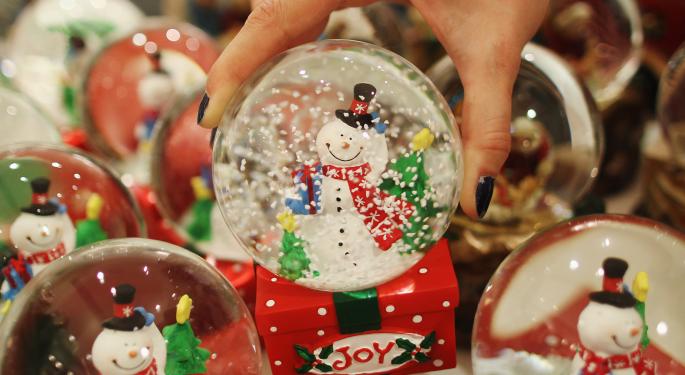 It's October, and you know what that means—stores have had Christmas/holiday merchandise on the shelves for a few weeks already.
Remember when "the holiday season" started once Santa made his appearance at the Macy's (NYSE: M) Thanksgiving Day Parade? Not anymore!
The scrooges of the world may throw a first-world fit when they see sleigh ornaments in October, but it's also the signal that holiday job seekers better jump into action now.
According to preliminary reports, consumers won't spend any more this season than they did in 2012. This means that there isn't likely to be more holiday openings than last year. If that's true, about 700,000 temporary jobs are up for grabs this year.
Wal-Mart (NYSE: WMT) is in the market for 55,000 holiday workers.
That number represents 5,000 more than last year, according to Bloomberg, but the company will also transition 35,000 part-time workers to full-time status and another 35,000 from temporary to part-time. These changes will remain in effect after the holiday season.
The retailer has come under fire for its failure to keep store shelves stocked at a time when it's facing increasing competition from rivals like Target (NYSE: TGT). These changes are an attempt to address this problem.
If any retailer needs to show signs of life, it's J.C. Penney (NYSE: JCP).
Announcing that it will hire 35,000 workers this holiday season is definitely positive buzz. The number is roughly in line with 2011 figures. In 2012, the company didn't disclose figures but this year, it's hoping to do better than the 31.7 percent drop in same-store sales during the holiday quarter last year. (Let's be honest, that shouldn't be too difficult.)
Related: Krispy Kreme Introduces Signature Packaged Ground Coffee into Sam's Clubs
Target will add 70,000 this season—down from 88,000 last year. In addition, current employees will have the option of working five to 10 percent more during the season.
Kohl's (NYSE: KSS) says that it will add about 40 people per store—down from 41 in 2012. It will add 6,400 to its distribution centers making the total around 53,000.
Finally, Amazon (NASDAQ: AMZN) said that it will hire about 70,000 workers for its more than 40 distribution centers around the country.
In 2012, the online retailer hired about 50,000 employees making this season a huge increase from past years.
Remember the hordes of people who drove their campers to RV parks around the Amazon warehouses last year for two months? These "Workampers" mostly represented retired people looking for extra income. Those RV parks should be a lot larger this year.
If you're looking for a job this holiday season, they're out there but with lights, tinsel, trees, and gaudy lawn decorations already for sale, dig out your holiday sweater and apply today.
Disclosure: At the time of this writing, Tim Parker had no position in the companies mentioned.
Posted-In: Amazon Bloomberg J.C. Penney Kohl's TargetNews Retail Sales Crowdsourcing General Best of Benzinga
View Comments and Join the Discussion!