Benzinga's M&A Chatter for Thursday October 10, 2013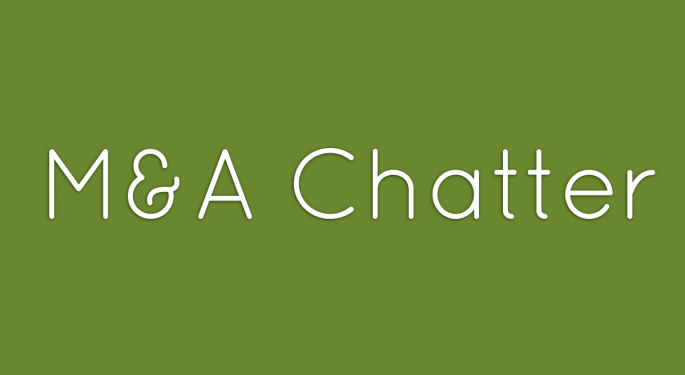 The following are the M&A deals, rumors and chatter circulating on Wall Street for Thursday October 10, 2013:
Funds Advised by Apax Partners Complete Acquisition of rue21 for $42/Share
The Deal:
rue21 (NASDAQ: RUE) and Apax Partners announced Thursday the completion of the acquisition of rue21 by funds advised by Apax Partners for $42.00 per share in cash.
The deal was approved at a special meeting of stockholders held on September 19, 2013. Rue21 stock will cease trading on the NASDAQ Stock Market effective Thursday.
rue21 closed at $41.99 Thursday, a gain of 1.82%.
Amazon.com to Acquire TenMarks
The Deal:
Amazon.com (NASDAQ: AMZN) announced Thursday that it has reached an agreement to acquire TenMarks, which provides students with math instruction. Terms of the acquisition were not disclosed. The deal is expected to close in Q4 2013.
Amazon closed at $305.17 Thursday, a gain of more than 2%.
Nuance to Acquire Varolii
The Deal:
Nuance Communications (NASDAQ: NUAN) announced Thursday that it has agreed to acquire cloud-based outbound customer engagement solutions procvider Varolii. The deal is expected to close next week. Terms were not disclosed.
Nuance Communications closed at $18.27 Thursday, a gain of $0.12.
Huntington Bancshares Acquires Camco Financial for $6.00/Share in Cash
The Deal:
Huntington Bancshares (NASDAQ: HBAN) and Camco Financial Corporation (NASDAQ: CAFI) announced Thursday an agreement under which Huntington will acquire Camco Financial in a cash and stock transaction valued at aproximately $97 million.
Under the terms of the agreement, Camco shareholders may elect to receive 0.7264 shares of Huntington common stock, or $6.00 in cash, for each share of Camco Financial common stock they own. The deal is expected to be close in H1 2014.
Camco Financial closed at $5.94 Thursday, a gain of 50%.
View Comments and Join the Discussion!
Posted-In: M&A News Insider Trades