Benzinga's M&A Chatter for Wednesday October 9, 2013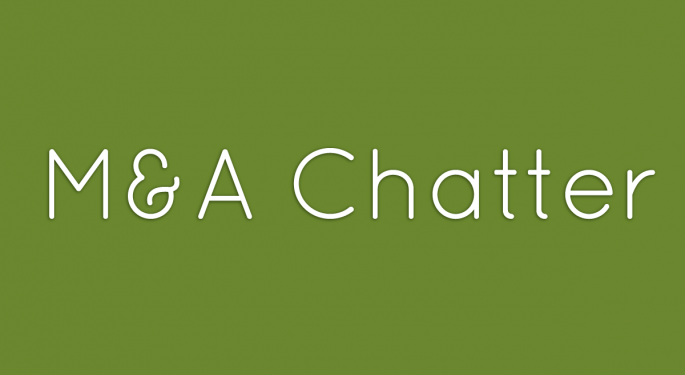 The following are the M&A deals, rumors and chatter circulating on Wall Street for Wednesday October 9, 2013:
Jos A Bank Bids $48/Share for Men's Wearhouse
The Offer:
Shares of Men's Wearhouse (NYSE: MW) surged higher in the pre-market Wednesday on a $48 per share cash bid from rival Jos. A Bank Clothiers (NASDAQ: JOSB). The total deal would be valued at $2.3 billion.
The Men's Wearhouse Board of Directors rejected the offer stating it is "not in the best interests of Men's Wearhouse or its shareholders."
Men's Wearhouse closed at $45.03 Wednesday, a gain of 27%.
Canada Pension May Participate in Bid for BlackBerry
The CEO Comments:
Shares of BlackBerry (NASDAQ: BBRY) spiked higher Wednesday afternoon on comments from CEO Mark Wiseman of Canadian Pension that they would determine whether to participate in a bid for the troubled phone maker.
Acording to Bloomberg, Wiseman did not say if he was conisdering joining the Fairfax bid. Prem Watsa's Fairfax Capital entered into a Letter of Intent on September 23 to acquire BlackBerry at $9.00 per share and may have trouble completing the deal without additional investors.
A spokesperson for BlackBerry was not available for comment.
BlackBerry closed at $8.11 Wednesday, a gain of $0.13.
Lenovo Rumored to be in Talks to Acquire HTC
The Rumor:
Chinese laptop maker Lenovo (NASDAQ: LNVGY) is in talks to acquire Taiwan smartphone make HTC (OTC: HTCKF), according to Marbridge Daily. Reportedly, the two companies have been talking since August and will announce the results of the negotiations in H1 2014 or later.
Spokespersons for the companies were not available for comment on the rumor.
Hearing Renewed Takeover Chatter in Cliffs Natural Resources
The Rumor:
Shsres of Cliffs Natural Resources (NYSE: CLF) spiked higher Wednesday on renewed takeover chatter. China Resources was rumored in May to be bidding for Cliffs.
A spokesperson for Cliffs was not available for comment.
Cliffs Natural Resources closed at $20.09 Wednesday, a loss of 1.5%.
SolarCity to Acquire Zep Solar for $158M in Stock
The Deal:
SolarCity Corp. (NASDAQ: SCTY) and Zep Solar announced Wednesday that they have agreed that SolarCity will acquire Zep Solar for approximately $158 million in shares of SolarCity common stock.
The transaction is expected to close in December.
SolarCity closed at $37.13 Wednesday, a loss of more than 4.5%.
View Comments and Join the Discussion!