Benzinga's M&A Chatter for Tuesday October 8, 2013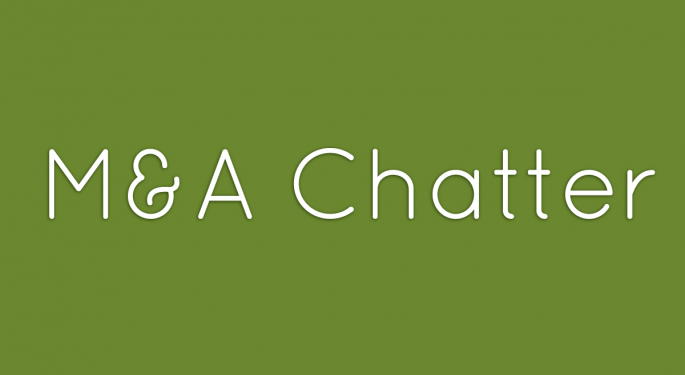 The following are the M&A deals, rumors and chatter circulating on Wall Street for Tuesday October 8, 2013:
Rue21 Deal Reportedly to Close by October 19
The Rumor:
Shares of Rue21 (NYSE: RUE) spiked higher Tuesday on a report from Deal Reporter that the sale of the company was expected to close in days, most likely no later than October 19.
Apax Partners agreed on May 23 to acquire Rue21 for $42 per share. A Rue 21 spokesperson was not available for comment.
Rue21 closed at $41.14 Tuesday, a gain of 3%.
Apollo, Cooper Make Attempt at Closing Merger Deal
The Talks:
Shares of Cooper Tire (NYSE: CTB) rose Tuesday on reports that Apollo Tyre is still attempting to complete its merger with Cooper, although at a reduced price. Apollo had agreed on June 12 to acquire Cooper for $35 per share in cash and the merger was approved by Cooper shareholders on September 30.
However, Apollo Tyre said recently that a reduction in the share price is warranted, while Cooper Tire filed a complaint in court last Friday to require Apollo to complete the merger expeditiously.
A spokesperson for Cooper Tire was not available Tuesday to provide an update on any talks between the two parties.
Cooper Tire closed at $26.50 Tuesday, a gain of 3%
Report McKesson in Talks to Buy Celesio for $5.08B
The Rumor:
Shares of McKesson Corporation (NYSE: MCK) rose 3% Tuesday on a report from Wall Street Journal that the company is in talks to buy rival Celesio (OTC: CAKFY) for $5.08 billion. Reportedly, CVS (NYSE: CVS) and Cardinal Health (NYSE: CAH) have also been in talks with the German drug distributor.
McKesson Corporation closed at $133.73 Tuesday.
View Comments and Join the Discussion!