Benzinga's M&A Chatter for Monday October 7, 2013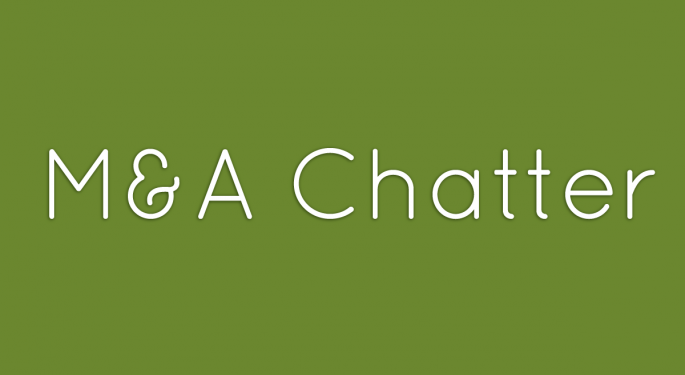 The following are the M&A deals, rumors and chatter circulating on Wall Street for Monday October 7, 2013:
SolarWinds Acquires Confio Software for $103M in Cash
The Deal:
SolarWinds (NYSE: SWI) announced Monday that it has acquired privately held Confio Software for $103 million in cash. Confio makes Ignite database performance management software.
SolarWinds closed at $34.46 Monday, a loss of 2%.
B&G Foods Acquires Rickland Orchards for Approximately $57.5M
The Deal:
B&G Foods (NYSE: BGS) announced Monday that it has acquired Rickland Orchards from Natural Instincts for approximately $57.5 million. The deal, which closed Monday, consists $37.4 million in cash and approximately $20.1 million in shares of common stock of B&G Foods.
B&G Foods closed at $34.91 Monday, a loss of $0.24.
Quantum Shares Spike on Rumor of Sale Process
The Rumor:
Shares of Quantum Corp (NYSE: QTM) spiked higher Monday on a report from Deal Reporter the company is in a formal sale process.
A spokesperson for Quantum was not available for comment.
Quantum closed at $1.45 Monday, a gain of almost 3% on 9 times average volume.
Report BlackBerry is in Sale Talks with Cisco, Google, SAP
The Rumor:
Shares of BlackBerry (NASDAQ: BBRY) rose in pre-market trading on Monday, on a report from Reuters that the Ontario company is in talks with Cisco (NASDAQ: CSCO), Google (NASDAQ: GOOG) and SAP (NYSE: SAP) to sell all or part of the company.
A spokesperson for SAP declined comment, while spokespersons for BlackBerry on the other rumored suitors did not respond to Benzinga's request for comment.
Fairfax Capital, led by Prem Watsa, entered into a Letter of Intent on September 23 to acquire BlackBerry at $9.00 per share. However, Watsa's ability to raise the required financing to complete the deal is in question.
BlackBerry closed at $7.97 Monday, a gain of 3.5%.
Cooper Tire Tells Apollo They Have Not Agreed Reduction in Merger Price is Warranted
The Response:
Shares of Cooper Tire (NYSE: CTB) fell almost 13% Monday, as the company issued a statement refuting a comment in Apollo Tyre's press release from Sunday, October 6. In that release, Apollo said that Cooper has agreed that "some ome price reduction is warranted."
On June 12 Apollo announced it had agreed to acquire Cooper Tire for $35.00 per share in cash or $2.5 billion. The deal was approved by Cooper shareholders on September 30.
A spokesperson for Apollo Tyre was not available for comment on the latest Cooper Tire response.
Cooper Tire closed at $25.72 Monday.
View Comments and Join the Discussion!