Samsung To Apple On Gold Phones: Been There, Done That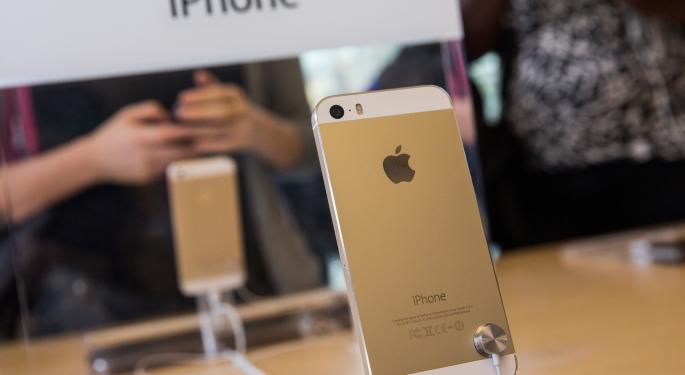 Apple's (NASDAQ: AAPL) new gold colored iPhone 5S is getting a lot of press.
Samsung (OTC: SSNLF) is not impressed. Maybe that's because Samsung has seen gold colored phones before. Eight times before, in fact.
Samsung's first gold phone, the Anycall Athens Olympic Phone came out in 2004. The company has introduced gold colored phones eight times over the years, most recently with the gold Galaxy S4.
The company noted its "gold phone" history in an official blog post Friday. The post was in response to some critics that the gold Galaxy S4 was an attempt to mimic the gold colored Apple iPhone 5S.
Samsung didn't specifically mention Apple's phone in the blog post but did draw attention with a "#8before10" hashtag. The tag was a reference to the fact that Samsung's Galaxy S4 Gold Edition came out on September 8, while Apple unveiled its version on September 10.
Actually, the author of the blog post noted that the Galaxy S4 Gold Edition was first launched in the United Arab Emirates on August 27. The rest of the post provided a list of all eight gold Samsung phones. To add insult to injury, a footnote to the post said the posted list is "not a complete list of gold-colored products made by Samsung." So there. Almost.
In truth, the blog post admits, not all listed products were actually ever made available to the public. Among those that were released, some were only made available to selected markets according to AppleInsider.
For example, Samsung's "Wise 2" clamshell phone, released in 2012, was only sold in South Korea. The Giorgio Armani Galaxy S, which came out in 2009 was only available in Italy, the Netherlands, UK, and Russia.
Then there was the gold Samsung phone used in the movie Ocean's Thirteen in 2007. As with most movie artifacts, the phone was a custom-made prop and never actually produced or sold by Samsung.
As for availability, the gold Apple iPhone 5S was reported to be in short supply domestically. The gold Samsung S4 is only available in the Middle East for now. The Las Vegas Guardian Express said demand and sales would determine whether the gold S4 is ever sold in the United States.
One more thing: Although Samsung has been silent on the subject, the Guardian Express pointed to wide-ranging speculation that the Galaxy S4 Gold Editions being sold in the Middle East are made with – gasp – real gold. Prices for the gold S4 were not announced or listed.
At the time of this writing, Jim Probasco had no position in any mentioned securities.
Posted-In: #8before10 Anycall Athens Olympic Phone Apple Galaxy S4 Galaxy S4 Gold EditionNews Events Media Best of Benzinga
View Comments and Join the Discussion!