Benzinga Weekly Preview: Italian Senate To Decide Berlusconi's Fate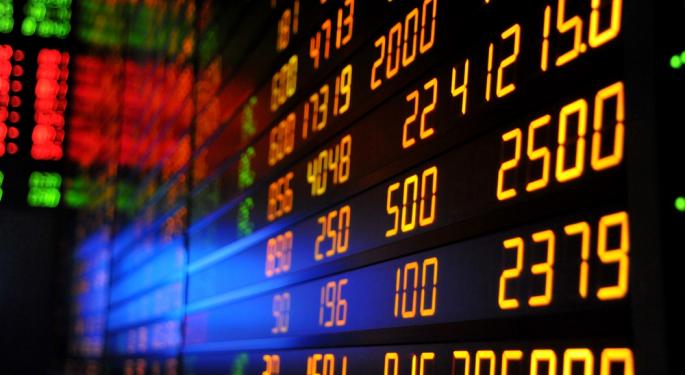 Next week will be a busy one for global markets with the US budget battle and the European Central Bank meeting, but politics in Italy could take center stage as the Italian Senate is expected to decide whether or not to force Silvio Berlusconi to resign due to his tax fraud conviction.
Berlusconi along with several members of his political party have threatened to take down the Italian government if he is forced to give up his position.
Key Earnings Reports
Next week investors will be waiting for several key earnings reports including Walgreen Co. (NYSE: WAG), Acuity Brands, Inc. (NYSE: AYI), and Monsanto Company (NYSE: MON)
Walgreen Co.
Walgreen is expected to report EPS of $0.72 on revenue of $17.95 billion, compared to last year's EPS of $0.63 on revenue of $17.07 billion.
On September 18th, the analyst team at Goldman Sachs gave Walgreen Company a Buy rating with a 12 month price target of $60.00. Goldman noted that Walgreen's recent acquisition of a 45 percent stake in Alliance Boots will likely drive EPS in fiscal year 2016.
"Investor feedback from our recent Drug Retailer coverage transfer suggests increasing focus on WAG's potential earnings power post "Step 2" of the Alliance Boots transaction. We thus introduce our scenario analysis, which implies potential for EPS accretion of 8-10% to our published $4.77 FY16E EPS if WAG successfully closes Step 2. Our base case pro forma EPS of $5.23 excludes any contribution from ABC equity income or tax upside from the Swiss location of the WAG/Boots purchasing JV"
On September 16th, Morgan Stanley gave Walgreens an Equal-weight rating; noting that the Pharmaceutical Services Negotiating Committee's announcement of a cut to generic drug reimbursement could impact Walgreens because of its 45 percent stake in Alliance Boots.
"WAG has exposure via its 45% stake in Alliance Boots. We estimate that the announced cut represents ~1.5% EBIT headwind (~£20M) to Alliance Boots, which accounts for ~25% of UK prescriptions. This should translate into a relatively modest impact to WAG's overall EBIT of < 25 bps."
Acuity Brands, Inc.
On October 1st, Acuity Brands is expected to report EPS of $1.02, compared to last year's EPS of $0.88.
At the beginning of August, Goldman Sachs gave Acuity a Neutral rating with a 12-month price target of $85.00. The analyst team at Goldman noted that the positives underlying the case for investment were already largely priced in.
"We initiate coverage of Acuity Brands – a lighting products company – with a Neutral rating and 3% downside to our $85, 12-month price target. We see several positives underlying the investment case for Acuity: (1) leverage to a recovery in US non-residential construction spending given US (c.90% of sales) and new construction (c.50%) exposure, (2) growth in retrofit volumes owing to energy efficiency demand (e.g., LED is 20% of sales), and (3) capital allocation. But, these positives appear priced in given valuation is at an all-time high, and LED cannibalization risk – while low near term – warrants positioning for a better entry point, in our view."
Monsanto Company
Monsanto is expected to report a loss of $0.43 per share, compared to last year's loss of $0.44 per share.
On September 19th, Piper Jaffray gave Monsanto an Overweight rating with a price target of $138.00. The analyst team chose to maintain the stock's rating but increase the price target from $135.00 as they expect Monsanto to at least match its 3 million acre cornfield target.
"After completing a state-by-state analysis of Brazil planting intentions, we are reiterating our Overweight rating on MON shares and believe investor concerns around lower South American corn acreage are overblown. It is true that total corn acreage is set to contract - roughly 7% by our estimation including both the summer and safrinha season crops. However, we believe the decline in hybrid corn acreage will be more modest and ultimately the increased adoption of biotech traits holds the key to Monsanto's profit growth in South American corn. Healthy soybean economics provide a strong incentive to plant Monsanto's Intacta trait package and, based on our channel checks, we believe it will at least match, if not exceed, its stated 3mil acre target."
Goldman Sachs took a more aggressive stance on Monsanto and issued a Buy rating with a price target of $124.00  on September 12th. The rating was given after an industry conference at which management indicated that corn seed prices are expected to increase by 5 to 10 percent in 2014.
"With today's presentation, MON made a compelling argument that when a farmer is evaluating seed choices, what matters is yield and maximizing return per acre rather than minimizing cost. We agree that newer, better hybrid seeds and advanced trait packages represent one of the best opportunities for farmers to improve their yields each year, as opposed to other inputs like fertilizer, farm equipment, and crop chemicals, which have less innovation and are somewhat discretionary in the amount of usage (please see our 8/12/13 note Corn price fade does not equal a MON earnings hit; reiterate CL-Buy for more details). We see management's initial 2014 pricing target of 5%-10% as supportive of this steady annual improvement in yield potential that is driving sustainable, consistent midhigh single digit corn seed pricing for MON. We also believe that this pricing goal will support high-teens EPS growth guidance for 2014 that we expect MON will provide with 4Q2013 earnings in October."
Key Economic Releases
The European Central Bank is set to meet on Wednesday instead of Thursday next week as Thursday is a German national holiday. The bank is largely expected to maintain current interest rates and reiterate the previous month's forward guidance; that rates will remain low for an "extended period".  Investors will be watching ECB President Mario Draghi's post meeting press conference closely for any clues about the eurozone's new long term refinancing operation.
The US government will also be under the microscope as an 11th hour decision about an emergency spending bill is likely on Monday. The difficult negotiations between Democrats and Republicans in Washington have set the stage for a tough battle about the nation's budget in the days to follow.
Daily Schedule
Monday
Earnings Releases Expected: Diamond Foods, Inc. (NASDAQ: DMND), Farmer Brothers Company (NASDAQ: FARM)
Economic Releases Expected: US Chicago PMI
Tuesday
Economic Releases Expected: Manufacturing PMI from France, Germany, the UK , the eurozone, the US and Canada; Australian and Brazilian trade balance.
Wednesday
Earnings Expected From: Accretive Health, Inc (NYSE: AH), Monsanto Company (NYSE: MON), UniTek Global Services, Inc. (NASDAQ: UNTK)
Economic Releases Expected: Eurozone interest rate decision and PPI data, US National Employment Report, British construction PMI
Thursday
Earnings Expected From: Constellation Brands Inc (NYSE: STZ), International Speedway Corporation (NASDAQ: ISCA)
Economic Releases Expected: Services PMI from Spain, France, Germany, the UK, the eurozone, and China; and eurozone retail sales
Friday
No Notable Earnings Expected
Economic Releases Expected: German PPI, Indian PMI, US nonfarm payrolls
Posted-In: News Eurozone Commodities Previews Global Econ #s Economics Federal Reserve Best of Benzinga
View Comments and Join the Discussion!