Four Apple iPhone Launch Day Stories (AAPL)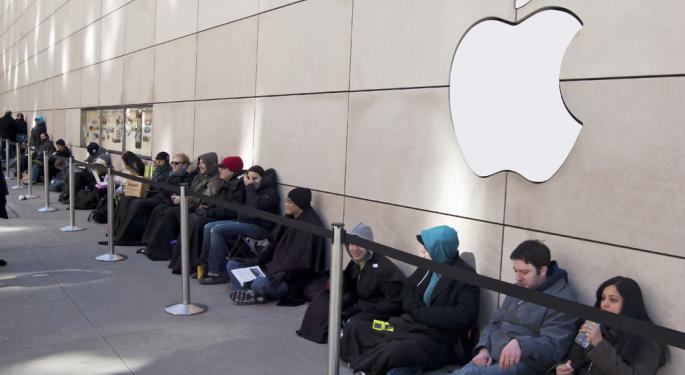 Since early on Thursday, reports (and images) showing long lines outside of Apple (NASDAQ: AAPL) stores around the world have poured into media outlets but as stores around the world are opening their doors, here's some of the latest 5S and 5C news as of Friday morning.
Gold iPhone In Short Supply
Almost immediately following the 5S's availability online, the delivery date for the Gold iPhone was well into October and there are reports that each store received between five and 10 for launch. Some retail outlets reported receiving only Space Grey iPhone 5S phones prompting Apple to boost production of the gold color by one-third according to the Wall Street Journal.
Why is the gold phone so popular? According to customers, it's the only color that clearly indicates that the phone is a 5S model.
eBay (NASDAQ: EBAY) already has listings for the gold (sorry, champagne) phone for more than $1,000.
5C Sales a Focus after UK Reports Disappointing Pre-Orders
On Wednesday, The Guardian reported that preorders for the 5C were only one-tenth of the expected demand for the 5C. UK networks had taken between 75,000 and 100,000 pre-orders of Apple's newest phone in the past but this time, pre-orders were disappointing even after estimates were ratcheted down since two models were released.
 Of course, this report was from Wednesday but this seems to contradict other carriers who said that 5C sales were strong. The 5S wasn't available for pre-orders until Friday.
Related: Three Apple Stories You Might Have Missed Wednesday
Teardown Finds No Major Changes
IFixit went to work tearing apart the new phone in a live event and found no major changes to the 5S's innards. In the video on its site, it shows the fingerprint sensor as well as the new A7 processor.
iFixit gave the 5S a repairability score of 6 out of 10. (The higher the score, the easier it is to repair without having to take it to an Apple store.) Apparently, the battery no longer has a pull tab and considerably more adhesive and you still need a special screwdriver to get inside the phone. Do you repair your own smartphone? Leave us a comment below and let us know.
The Ultimate in Apple Geekiness
Finally, if you're the ultimate Apple fan, you might be interested in watching these videos of somebody taking the 5S and the 5C out of the box. Sure, Apple knows how to package a product with that tightly fitting box and such, but a video showing the product being removed from the box? That is just begging for a funny YouTube parody video.
Disclosure: At the time of this writing, Tim Parker was long Apple.
Posted-In: Apple AppleInsider EBAY iPhone 5CNews Wall Street Journal Tech Media Best of Benzinga
View Comments and Join the Discussion!