Benzinga's M&A Chatter for Thursday September 19, 2013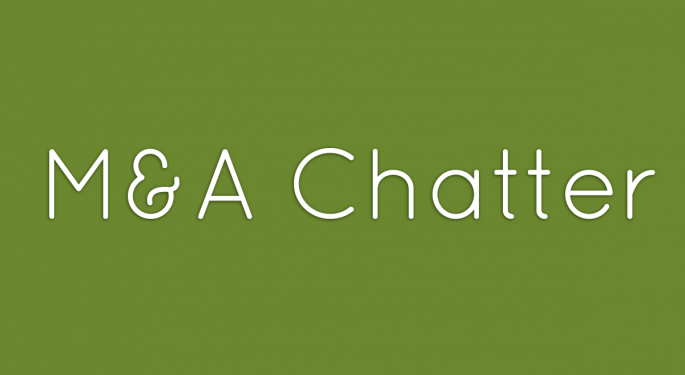 The following are the M&A deals, rumors and chatter circulating on Wall Street for Thursday September 19, 2013
Bomarin Pharmaceutical Shares Spike Higher Pre-Market on Chatter of Roche Interest
The Rumor:
Shares of Bomarin Pharmaceutical (NASDAQ: BMRN) rose sharply in the pre-market Thursday on a report from Deal Reporter that Roche (OTC: RHHBY) could offer between $95 and $105 per share for the San Rafael, CA biotech company.
After Roche initially declined comment on the rumor, the comapany's CEO said the company was not raising financing for a deal. Wells Fargo commented BioMarin is not a clean fit for Roche.
Biomarin shares traded over $86 in the pre-market and closed at $78.39, a gain of just over 1%.
IBM Acquires Daeja Image Systems
The Deal:
IBM (NYSE: IBM) announced Thursday it has acquired Daeja Image Systems, Daeja is a privately held software company with headquarters in the UK. Terms of the deal were not disclosed.
IBM closed at $193.39 Thursday, a loss of $1.03.
Veeco to Acquire Synos Technology
The Deal:
Veeco Instruments (NASDAQ: VECO) announced Thursday that it has agreed to acquire Synos Technology, a privately-held designer and manufacturer of Fast Array Scanning Atomic Layer Deposition systems that enable the production of flexible organic light-emitting diode displays for mobile devices.
Veeco Instruments closed at $35.74 Thursday, a gain of 1.25%.
View Comments and Join the Discussion!