Three Apple Stories You Might Have Missed Wednesday (AAPL)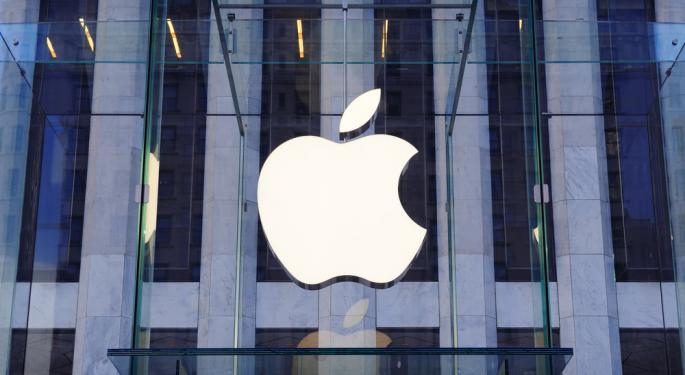 Even for Apple (NASDAQ: AAPL), the last two weeks have been huge news weeks. Here are three Apple stories you may have missed Wednesday.
Analyst Expects Six To Eight Million iPhones Sold This Weekend
KGI analyst Ming-Chi Kuo said Wednesday in a research note that he expects Apple to ship between six and eight millions new iPhones this weekend. That compares with five million during the first weekend of the iPhone 5 launch in 2012.
He went on to say that because of the reported supply constraints of the iPhone 5S, that model will only account for 35 to 45 percent of sales. The 5C will account for most of the balance. And don't expect Apple to provide a breakdown of sales. It will likely announce a total weekend number not itemized by model.
Piper Jaffray analyst Gene Munster is looking for a five to six million iPhone weekend.
Related: iPhone 5S Supply 'Grotesquely Unavailable' - Sources
iPhone Activation Servers Can't Handle the iOS7 Load
Apple released its iOS7 upgrade on Wednesday but as a couple of tweets noted, the update servers buckled under the weight of iOS7 demand. (By a couple we mean millions.)
There were multiple reports of phones getting stuck trying to install the software which led some users having to perform a complete restore. Apple acknowledged the outages in a high priority internal memo that seemed to indicate bigger issues than just large demand according to sources who spoke to AppleInsider.
This could make for an annoying experience for customers hoping to get their hands on a new iPhone this weekend.
Apple Chairman to Become CEO of New Company Focused on Health and Well-Being
Google (NASDAQ: GOOG) announced that Arthur D. Levinson, Chairman and former CEO of Genentech and Chairman of Apple, will become CEO of Calico, a company that will focus on illness and aging. The details of the company weren't released but this appears to be something where rivaling tech CEOs want to work together. Apple CEO Tim Cook said,
"For too many of our friends and family, life has been cut short or the quality of their life is too often lacking. Art is one of the crazy ones who thinks it doesn't have to be this way. There is no one better suited to lead this mission and I am excited to see the results."
Disclosure: At the time of this writing, Tim Parker was long Apple.
Posted-In: Apple Gene Munster Google iOS7 Ming-Chi KuoNews Tech Best of Benzinga
View Comments and Join the Discussion!