Benzinga's M&A Chatter for Wednesday September 18, 2013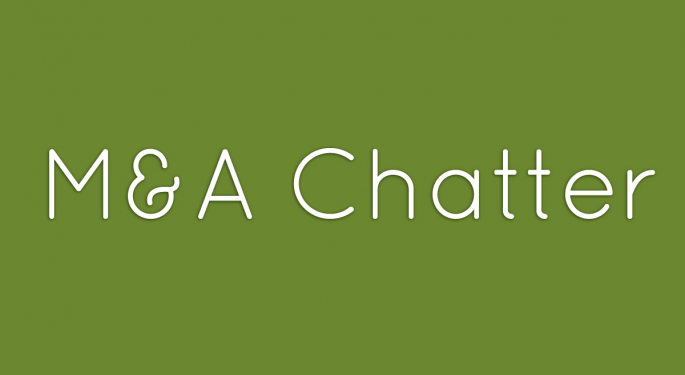 The following are the M&A deals, rumors and chatter circulating on Wall Street for Wednesday September 18, 2013
Camelot Information Systems to be Acquired for $2.05/ADS in 'Going Private' Transaction
The Deal:
Camelot Information Systems (NYSE: CIS) announced Wednesday that it has agreed to be acquired Camelot Employee Scheme and its subsidiary Camelot Employee SubMerger Scheme, for $2.05 per ADS. Camelot Employee Scheme is wholly owned by Mr. Simon Yiming Ma, the Company's Chairman and CEO.
The deal is expected to close in early 2014,
Camelot Information Systems closed at $1.91, a gain of 5.5%.
Groupon Acquires Sidetour
The Deal:
Groupon (NASDAQ: GRPN) announced Wednesday that it has acquired SideTour, the online marketplace for experiences. No terms were disclosed.
SideTour View announced the acquisition on its blog.
Groupon closed at $11.55 Wednesday, a gain of almost 1.5%.
Newstar Financial Said to Explore Sale of Specialty Leader
The Rumor:
Shares of NewStar Financial (NASDAQ: NEWS) rose sharply Wednesday on a report from Bloomberg that the company is working with Credit Suisse to assist in a possible sale. The lender has backing from private-equity firms Corsair Capital and Capital Z Partners Management.
Newstar Financial closed at $17.76 Wednesday, a gain of 13%.
Retrophin Proposes to Acquire Transcept for $4.00/Share
TheOffer:
Retrophin, Inc. (NASDAQ: RTRX) announced Wednesday that it has made a proposal to the Board of Directors of Transcept Pharmaceuticals (NASDAQ: TSPT) to acquire all of the shares of Transcept common stock that Retrophin does not own for $4.00 per share in cash. Today's offer was in response to an offer made last week of $3.50 per share in cash. That offer was rejected by Transcept's Board.
Retrophin closed at $6.88 Wednesday, a gain of $0.06, while Transcept shares gained 8%, closing at $3.59.
View Comments and Join the Discussion!