Benzinga's Weekend M&A Chatter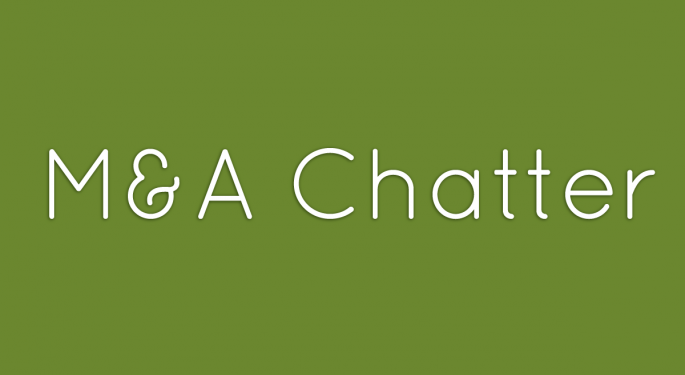 The following are the M&A deals, rumors and chatter circulating on Wall Street for Friday September 12, 2013
Renewed Takeover Chatter in Raxspace
The Rumor:
Shares of Rackspace Hosting (NYSE: RAX) moved higher Friday on renewed takeover chatter. IBM (NYSE: IBM), is the rumored buyer, according to sources, with a takeout price of $70 per share.
In July, Oracle (NYSE: ORCL) and Cisco (NASDAQ: CSCO) were rumored to be bidding for Raxspace. On June 4, IBM announced it was acquiring privately held cloud computing infrastructure provider Soft Layer.
Spokespersons for IBM and Raxspace were not available for comment.
Raxspace Hosting closed Friday at $51.90.
Hilltop Holdings' PlainsCapital Bank Acquires First National Bank of Edinburg, TX
The Deal:
Hilltop Holdings (NYSE: HTH) announced Friday that its subsidiary, PlainsCapital Bank, has entered into a purchase and assumption agreement with the FDIC to assume approximately $2.4 billion of liabilities and purchased at book value approximately $2.6 billion of assets First National Bank of Edinburg, TX. Regulatory approval of the transaction was simultaneous with the announcement.
Hilltop Holdings closed at $16.51 Friday, a gain of 1.5%.
Viropharma Shares Surge Higher on Takeover Chatter, Rumor of Goldman Hiring
The Rumor:
Shares of Viropharma (NASDAQ: VPHM) rose as high as $39.56 Friday on a report from Bloomberg that the biotech company had received offers from Shire (NASDAQ: SHPG) and Sanofi (NYSE: SFI) and hired Goldman Sachs to assist in the sale process. The company's shares were halted on a circuit breaker.
A spokesperson for Viropharma said the Bloomberg report was a rumor and was similar to an earlier takeover rumor from June. That report came from Reuters. A spokespersons for Shire declined comment. A Sanofi spokesperson was not available.
Viropharma shares closed at 13-year high of $39.13 Friday, a gain of 28.5%.
Report of sale of Uralkali Stake Sends Potash Stocks Soaring
The Rumor:
Shares of potash stocks and agricultural product stocks Potash (NYSE: POT), Intrepid Potash (NYSE: IPI), Mosaic (NYSE: MOS) and Agrium (NYSE: AGU) rose sharply higher on Friday on a report from Reuters that Russian billionaire Suleiman Kerimov was selling his $3.7 billion stake in potash company Uralkali to investor Vladimir Kogan.
Belarus authorities arrested Uralkali's CEO Vladislav Baumgertner on August 26 on charges he abused his office. An appeal for his release was rejected on Friday.
Potash shares closed at $32.49 Friday, a gain of more than 2%, Intrepid Potash shares rose 7% on Friday, closing at $15.10 and shares of Mosaic rose 3.5%, closing at $45.99.
View Comments and Join the Discussion!