The Latest Microsoft CEO Search Scuttlebutt (MSFT)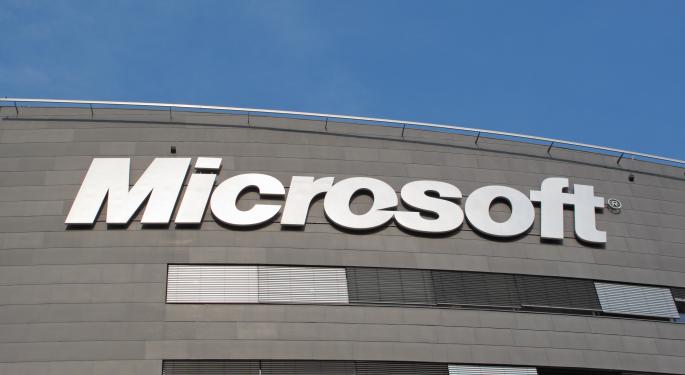 Academic speculation about the search for a new CEO to replace retiring Steve Ballmer at Microsoft (NASDAQ: MSFT) is, frankly, boring.
What's infinitely more interesting is scuttlebutt or, as Business Insider called it, "barstool gossip."
Bar stool gossip is sometimes more than just interesting. Sometimes it is actually true.
According to Business Insider, recent bar stool gossip included the following tidbits:
Microsoft is in chaos.
Ballmer was fired and didn't see it coming.
Bill Gates was behind Ballmer's ouster.
Gates plans to return as an active chairman at Microsoft.
None of this information came from Microsoft sources, Business Insider said. That is often the nature of bar stool gossip. In the world of information hierarchy, the reliability of scuttlebutt often puts it somewhere between questionable and downright fishy.
Such information, however, does add color to an ongoing event like Microsoft's search for a new CEO.
The nature of chaos, of course, is that it is subject to interpretation. It is certainly clear that Windows 8 has not been quite the blockbuster Microsoft expected and the company has struggled to grow market share with products like Windows Phone.
Related: Microsoft In Damage Control Mode With Xbox One?
As for Ballmer being fired, All Things D hinted at it, including the notion that Bill Gates probably played a role. Business Insider went a step further saying Bill Gates was the only person at Microsoft who could have fired Ballmer.
Although one of the most likely candidates to emerge for the Microsoft CEO job is Nokia (NYSE: NOK) CEO, Stephen Elop, Silicon Valley scuttlebutt scoffs at the notion.
One person told Business Insider, "His [Elop's] claim to fame is being CIO at Boston Chicken." That's hardly a ringing endorsement. It may not decide Elop's fate, but it does make speculation about him more interesting.
At least one sports book, Ladbrokes, decided to entertain barstool gossipers who wish to put their money where their mouth is by offering odds on just who Microsoft will choose as their next head. The current recent favorite was Elop at 1 to 4 odds, according to PC Magazine.
Meanwhile, speculation that Gates would return to personal involvement in the company has both supporters and detractors. Tech Crunch in asking "Who Honestly Wants Bill Gates to Come Back and Run Microsoft?" made a strong case that it would not happen.
CNNMoney laid out a scenario that supposed Gates might follow the lead of his neighbor, Howard Schultz, who returned to Starbucks (NASDAQ: SBUX) with great success.
As Business Insider concluded in its rumor roundup, many people believe Bill Gates is the only person capable of turning Microsoft around. For that reason, talk of his pending return to personal involvement in the company just might be one rumor that will stand the test of time.
At the time of this writing, Jim Probasco had no position in any mentioned securities.
View Comments and Join the Discussion!
Posted-In: Alan Mulally bar stool gossip Bill and Melinda Gates FoundationNews Rumors Management Events Media Best of Benzinga