Would You Buy Twitter's IPO?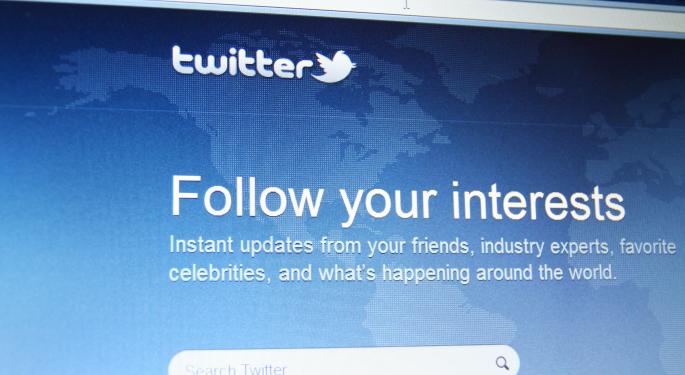 In what can only be described as the biggest surprise announcement of the week, Twitter announced that it has confidentially submitted an S-1 to the Securities and Exchange Commission for a planned IPO.
It did not take more than a few hours for this became the most talked about story in technology. Not surprisingly, it is now a trending topic on Twitter.
GSV Capital (NASDAQ: GSVC), a private equity firm that owns a piece of Spotify and Dropbox and other tech startups, immediately rose after Twitter (its largest holding) made the IPO announcement. The stock was up more than 10 percent during pre-market hours and shot up 12 percent after the market opened. It has since fluctuated back and forth between a 10 and 12 percent gain.
GSV experienced a similar spike when Facebook (NASDAQ: FB) had its IPO.
Benzinga spoke to Marketfy Maven and UndergroundTrader co-founder Jea Yu just a few days before Twitter made its IPO-related announcement. During the discussion, Yu praised the social media company but said he would not buy it -- or any company -- on an IPO unless he planned to trade the stock.
"It all boils down to how the market moves going into the IPO," said Yu, who created the Morning Profit Maker service on Marketfy. His new book, Way of the Trade: Tactical Applications of Underground Trading Methods for Traders and Investors, is available now. "I know that sounds weird, but the market is really fickle."
Related: Global X Social Media ETF Will Add Twitter After IPO
Yu estimated that GSV Capital would "skyrocket" the moment the Twitter IPO was announced.
"You want to get in before that," he said.
Yu recommended that investors look at other players in social media -- such as Renren (NYSE: RENN), LinkedIn (NASDAQ: LNKD) and Facebook -- to get a sense of where the market may be headed before Twitter's IPO.
Renren and LinkedIn are currently trading down less than one percent, while Facebook is down roughly one percent.
When Twitter goes public, Yu expects the media to bombard the world with one question: "Is Twitter gonna be the same as Facebook?"
Facebook is up more than 59 percent year-to-date, but it had a rough ride in 2012. The stock lost roughly half of its value in the four months following its May 2012 IPO.
Yu said that everyone is looking for a stock that can break that template -- one that can pop and maintain its gains. If Twitter is that stock, it could inspire more companies to go public. "Ultimately, it's going to have to hold the levels pretty strong for weeks," said Yu. "If that happens, it can completely change the model. And if that happens, you're going to have more IPOs."
Facebook did a good job of erasing the previous template, Yu said. But the torch is going to be passed to Twitter to see if it can improve upon the template and break that mold.
Disclosure: At the time of this writing, Louis Bedigian had no position in the equities mentioned in this report.
Louis Bedigian is the Senior Tech Analyst and Features Writer of Benzinga. You can reach him at 248-636-1322 or louis(at)benzingapro(dot)com. Follow him @LouisBedigianBZ
View Comments and Join the Discussion!
Posted-In: Dropbox Facebook GSV Capital Jea Yu LinkedInNews IPOs Tech Best of Benzinga