Coming Soon: Microsoft Cortana vs. Apple Siri (AAPL, MSFT)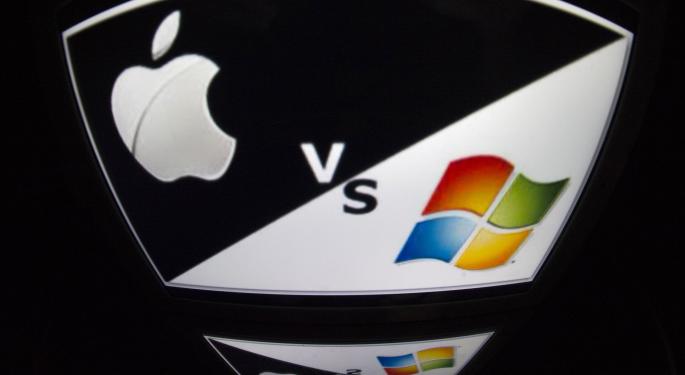 Move over, Siri.
There's a new computer-generated personal voice assistant service in town. At least there will be soon if reports from ZDNet are true.
Rumor has it that Microsoft (NASDAQ: MSFT) has been working on a rival to Apple (NASDAQ: AAPL)'s Siri and Google (NASDAQ: GOOG) Now, code-named Cortana (after the AI character in Microsoft's Halo series).
According to ZDNet, Microsoft intends Cortana to be much more than a pretty voice. In other words, as opposed to an app that allows users to interact with their smartphones, Cortana would learn and adapt serving more as a shell that draws on a number of Microsoft services.
Cortana would rely on machine-learning technology and utilize the Satori knowledgebase that powers Microsoft's Bing. In addition to residing in all versions of Windows and Windows Phone, Cortana would eventually integrate with the Xbox One OS, according to ZDNet.
The origin of the Cortana conversation goes back to a July memo from Microsoft CEO Steve Ballmer. At that time, Ballmer said Microsoft would be working on "a family of devices powered by a service-enabled shell."
Ballmer added, "Our UI will be deeply personalized, based on the advanced, almost magical, intelligence in our cloud that learns more and more over time about people and the world. Our shell will natively support all of our essential services, and will be great at responding seamlessly to what people ask for, and even anticipating what they need before they ask for it."
This kind of thinking puts Cortana in groundbreaking territory. Furthermore, Cortana's supposed reliance on Satori adds to the argument that Microsoft does not intend to sell off Bing, something Microsoft analyst, Rick Sherlund advocated in May, according to CNET.
Satori is key to Cortana's ability to 'learn.' WMPoweruser noted that Satori is more than a knowledgebase. In addition to collecting, holding, and digesting more than a billion objects over the past three and a half years, Satori "catalogs entities and the associated data and relationships among them all over the web."
All signs point to an early 2014 premiere of Cortana as part of the next release of the Windows Phone OS (probably 8.1). From there Cortana would be added to both Windows and the Xbox One Dashboard, according to Engadget.
In addition to Cortana, Windows Phone 8.1 might also include a Live Tile, according to The Verge. Referring to a screenshot apparently accidently posted by Microsoft's Joe Belfiore, the website suggested that, if genuine, this would mean Windows Phone could soon have Windows-8 functionality.
At the time of this posting, Jim Probasco had no position in any mentioned securities.
Posted-In: Apple Bing Cortana GoogleNews Rumors Events Media Best of Benzinga
View Comments and Join the Discussion!