Four Apple Headlines You Might Have Missed Wednesday (AAPL)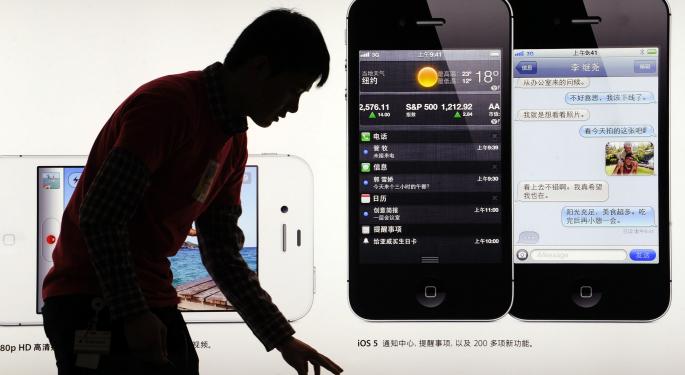 The Stock Plunges Nearly Six Percent
Shares of Apple (NASDAQ: AAPL) plunged nearly six percent -- not because of what it said on Tuesday, but what it didn't say. Investors were hoping to hear that it had inked a deal with China Mobile (NYSE: CHL), the world's largest wireless carrier but after holding out hope that it would announce something at its China event, Apple was strangely silent.
Second, what was supposed to be a low cost iPhone ended up with a base price of $549 in the United States and $733 in China if purchased without a contract.
Carl Icahn Says He Purchased More Apple Stock Wednesday
In a CNBC interview, billionaire activist investor, Carl Icahn, said he purchased more shares of Apple in the $465 to $466 range on the back of its weakness Wednesday.
Icahn said that if people look past the noise and study the financials, the stock is way undervalued and, much like his Netflix (NASDAQ: NFLX) position, buying Apple at these levels is a, "no brainer."
Related: The Top Four Apple Disappointments From Tuesday's Event
He went on to say that he believes CEO Tim Cook is doing a good job and he wouldn't micromanage a company's strategic decisions.
Rumor: New Apple TV Coming Soon
According to 9to5 mac, Apple may have a new version of Apple TV coming to consumers as soon as October when the new version of the iPad is expected to arrive. Apple will release a software update for the existing Apple TV along with iOS7 next week but rumors are swirling that it could be something that operates more as a set-top box or it may support 4K technology—a display with a horizontal resolution of 4,000 pixels.
Few companies are taking advantage of this technology giving Apple the opportunity to be one of the first to the party.
Apple Says Fingerprint Technology Not Perfect
Apple went into more detail about Touch ID, its new fingerprint technology, Wednesday. It said that it does not store fingerprint images on the phone but rather, fingerprint data is placed in a secure area of the A7 SoC.
It also said that the Touch ID system isn't perfect. If the finger is moist or damaged because of an injury or surgery, the sensor may not be able to read the fingerprint. Using another finger is the quick-fix for the problem but makes the system more cumbersome.
Finally, it said that third-party apps will not have access to fingerprint data.
Disclosure: At the time of this writing, Tim Parker was long Apple
Posted-In: 4K technology 9TO5Mac Apple china mobile iOS7 NetflixNews Tech Best of Benzinga
View Comments and Join the Discussion!