Apple iPhone Event Preview: What We Know, What We Don't And What We Hope Will Come True (AAPL)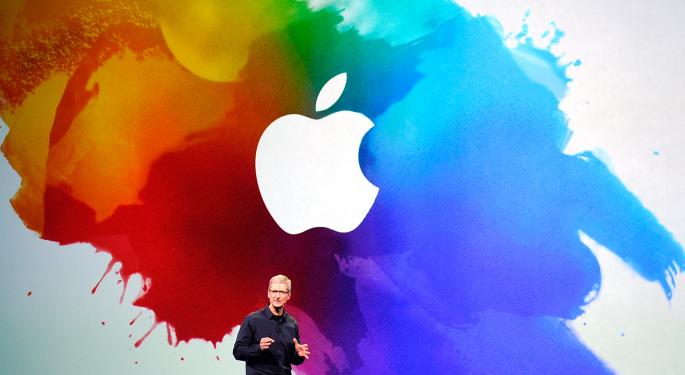 Apple (NASDAQ: AAPL) is only hours away from unveiling…something.
No one knows for sure what will be introduced today. The whole world seems to be convinced that the Cupertino, California-based tech giant will unveil the next-generation iPhone. If history repeats itself (doesn't it always?), September would be a likely month for Apple to make an iPhone-related announcement.
This assumption has been compounded by the fact that Apple will also hold an event in China on Wednesday, September 11.
If Apple chooses to introduce a product in place of the iPhone, it just might stun the world for avoiding a key opportunity to promote its next smartphone. That seems highly unlikely.
Regardless, there are a number of things that investors and bloggers will be watching for today. Some of them are a near-certainty -- others might be wishful thinking.
Likely: Same Size, Same Look
While there have been reports that Apple is quietly working on concepts for a larger iPhone, the company is not expected to make any major changes this year.
Related: iPhone 5S Will Be Apple's "Most Successful Launch Ever"
Likely: Two iPhones For Two Markets
In addition to the high-end iPhone 5S (the successor to the iPhone 5), Apple is expected to release a low-cost iPhone in emerging markets.
The rumored price point is all over the place, but ABG Sundal Collier analyst Per Lindberg told Benzinga that Apple cannot afford to "degrade its premium pricing status."
Lindberg expects the device to fall within the $300 to $400 range, making it slightly cheaper than the iPhone 4.
Very Likely: Names That Don't Match The Rumors
Remember when Apple was all but guaranteed to release an iPad Air? Or the time Apple was expected to release the iPhone 5, only to apply the "iPhone 4S" moniker instead?
While Apple may be content to stay the course and fulfill expectations, the company likes to remain secretive about its product names.
If a product name is discovered before an item is officially unveiled, Apple can simply change it.
The iPhone 5S may very well be the name of the new high-end iPhone. But don't expect the low-cost iPhone to be called the "iPhone 5C." It's too generic, and consumers may joke about what the "C" stands for (ex: "crap").
Related: How Many iPhones Will Apple Unveil On September 10?
Very Likely: New Colors
Up until the last decade, Apple was a colorful company. The firm prided itself on making a multitude of brightly-colored Macs -- laptops and desktops -- for consumers to get excited about.
With the release of the iPod, Apple began to change. The company moved away from its colorful past and became a company that was known for making metallic devices that incorporated a shiny coat of white or black paint.
Expect Apple to return to its colorful past with the iPhone 5C.
Somewhat Likely: Dual-LED Flash
Many iPhone owners purchased the device for its camera. Some of them upgraded to the iPhone 4S or iPhone 5 (from an older model) just to have the improved camera.
Thus, if there is any rumored feature that is likely to be a part of the iPhone 5S, it's the dual-LED flash.
Possible But Unlikely: Fingerprint Scanning
Apple may have acquired AuthenTec to become the champion of mobile commerce, but that doesn't mean that its fingerprint scanner is ready for release.
It is possible that the iPhone 5S could come with a fingerprint scanner that will allow users to unlock their device just by touching the base. But that technology may be a year or two (or more) away from perfection. Apple may be willing to use beta software (such as Siri or the Maps app) to sell an iDevice, but it is not likely to include fingerprint scanning until the technology is ready to go.
Somewhat Likely: 2GB RAM
According to BGR, the iPhone 5S could ship with 2GB of RAM -- twice the amount that came with last year's iPhone 5.
Expect the iPhone 5C to use 1GB of RAM (or less if Apple can get away with it).
Likely: Chinese Carrier Deals
China Telecom (NYSE: CHA) and China Unicom (NYSE: CHU) are expected to receive the new iPhone on September 20.
China Mobile (NYSE: CHL) is expected to begin selling the device in November.
Questionable: Apple TV Upgrade
There are rumors claiming that Apple will unveil an upgrade for its popular set-top box at today's event.
But would Apple take the spotlight away from the new iPhone -- even for a second -- to promote another product?
Questionable: iWatch
Now that Sony (NYSE: SNE), Qualcomm (NASDAQ: QCOM) and Samsung (OTC: SSNLF) have entered the smart watch market, many are wondering when Apple will do the same.
There have been rumors -- including a reported trademark battle -- suggesting that Apple is ready to release its Galaxy Gear competitor.
But it still feels too soon. Apple is likely to wait and see what other companies do with their watches (good or bad) before taking the plunge.
Disclosure: At the time of this writing, Louis Bedigian had no position in the equities mentioned in this report.
Louis Bedigian is the Senior Tech Analyst and Features Writer of Benzinga. You can reach him at 248-636-1322 or louis(at)benzingapro(dot)com. Follow him @LouisBedigianBZ
View Comments and Join the Discussion!
Posted-In: Apple Apple TV china mobile China Telecom china unicomNews Rumors Tech Best of Benzinga