More Reported Labor Violations Send Apple Into Damage Control Mode Again (AAPL)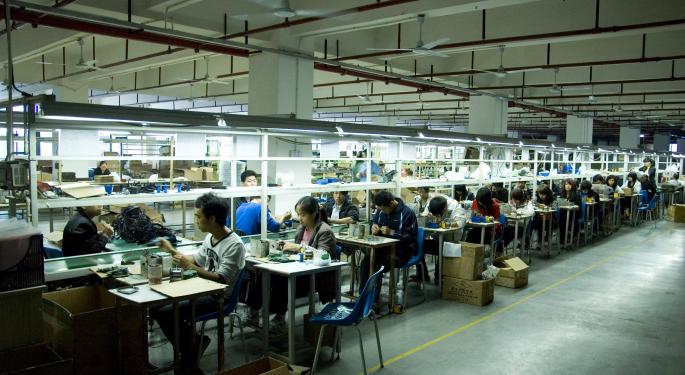 When you're the largest company in the world, you're going to spend a lot of time managing customer perception. Apple (NASDAQ: AAPL), knows this all too well.
From a constant stream of patent lawsuits to the, "Apple doesn't pay taxes" criticisms, working in Apple's legal and PR department might just be one of the most stable tech jobs in the world.
Thursday, a new report surfaced that sent the non-techno-geeks at Apple into action. China Labor Watch, a New York-based watchdog, published a report accusing a Chinese factory of numerous violations. The factory is said to be producing rear plastic covers for the much-rumored iPhone 5C.
The factory, located in Wuxi, China, is owned by Florida-based Jabil Circuit (NYSE: JBL). The allegations include a violation of Apple's mandated maximum 60 hour work week, employees standing more than 11 hours per day, inadequate training, hiring discrimination, and reports that new employees were forced to sign contracts stating that their overtime would be considered voluntary.
The PR teams for both companies immediately went to work.
Jabil said in a statement that it was troubled by the report and had sent a team to the factory to investigate the claims. It also pledged to ensure that proper standards and working conditions were upheld. To further assure consumers (and probably more importantly, Apple), it said that it conducts more than 100 audits of its operations each year.
Related: Apple May Be Working On a Hybrid iPhad
Apple one-upped Jabil. In a statement, it said, "We take any concerns about our suppliers very seriously, and our team of experts is on-site at Jabil Wuxi to look into new claims about conditions there." Apple's message is clearly, "we're so concerned about this that we had people at the factory almost immediately after learning of the report."
Of particular note is what might be Jabil's ever-shortening leash with Apple. In an audit earlier this year, Apple found that a Jabil facility had some employees that worked more than six consecutive days and that the two companies were working together to better-manage worker overtime.
Since this isn't the first time that Apple has been the subject of a China Labor Watch report, the company is clearly in damage control mode.
In March, China Labor Watch said Pegatron, another Apple supplier, had violated numerous labor rules including excessively low wages and too much overtime.
Follow Tim Parker on twitter @expositioncreat
Disclosure: At the time of this writing, Tim Parker was long Apple.
Posted-In: Apple China Labor Watch iPhone 5C Jabil CircuitLegal Global Tech Best of Benzinga
View Comments and Join the Discussion!