Benzinga's M&A Chatter for Wednesday September 4, 2013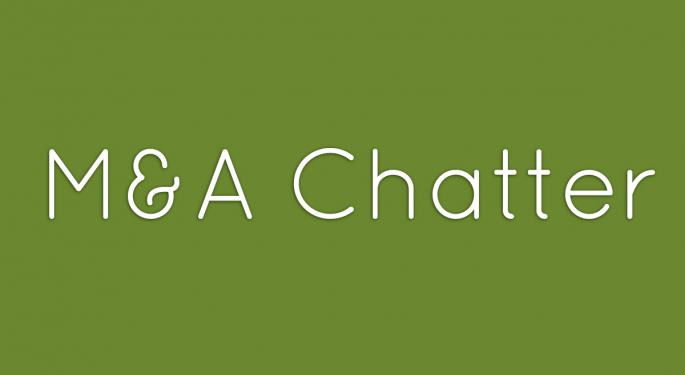 The following are the M&A deals, rumors and chatter circulating on Wall Street for Wednesday September 4, 2013:
Nikkei Reports Japan's Otsuka to Buy Astex Pharmaceuticals for 90B Yen
The Rumor:
Shares of Astex Pharmaceuticals (NASDAQ: ASTX) spiked higher Wednesday afternoon on a report from Nikkei that Otsuka (OTC: OTSKF) was offering 90 billion yen ($904 million) to acquire the drug company, which focuses on oncology and hematology.
Spokespersons for Otsuka and Astex were not available for comment.
Astex Pharmaceuticals closed at $8.27 Wednesday, a gain of 24% on 10 times average volume.
Bard to Acquire Rochester Medical for $20/Share
The Deal:
C. R. Bard (NYSE: BCR) announced Wednesday that it has entered into an agreement to acquire Rochester Medical (NASDAQ: ROCM) for $20 per share, or approximately $262 million.
The deal is expected to close later this year.
Rochester Medical closed at $19.91 Wednesday, a gain of 44%.
WSJ Reports BlackBerry Aims for November Sale
The Rumor:
Shares of BlackBerry (NASDAQ: BBRY) spiked higher late Wednesday on a report from the Wall Street Journal that the Canadian smartphone maker is seeking a speedy auction process that could be completed by November, according to sources. BlackBerry announced in August it was exploring strategic alternatives that might include a possible sale. The company has reportedly held preliminary talks with potential buyers.
BlackBerry closed at $10.75 Wednesday, a gain of 5% and traded as high as $11.00 after-hours.
View Comments and Join the Discussion!