ESPN Flexes Muscle In Cable Bundle Debate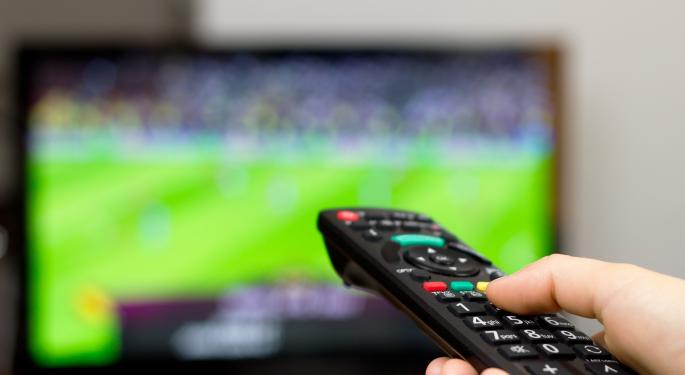 The debate over whether cable and satellite companies should offer TV channels via bundles (as they do now) versus a la carte options has a big player – Disney (NYSE: DIS) owned ESPN, the self-proclaimed "Worldwide Leader in Sports."
According to The New York Times, last year ESPN produced 35,000 hours of programming -- and that number included half of all live athletic events televised in the U.S. The ability to achieve such a feat is possible because the network owns the broadcast rights to a huge percentage of sporting events – far more than it can broadcast.
ESPN has been able to secure those rights thanks to the more than $6 billion in cable fees it collects each year from 100 million homes. Most of that is thanks to cable "bundles" that require subscribers to pay for ESPN whether they watch its channels or not.
That's why ESPN cares about the debate over whether cable and other providers should be allowed to continue to bundle.
The landscape, however, is changing. A growing number of consumers are turning to video streaming services like Aereo, Netflix (NASDAQ: NFLX), Google (NASDAQ: GOOG) Chromecast, and Apple (NASDAQ: AAPL) Airplay to name a few.
Related: Apple Might Become A Cable Company
In Washington D.C., thanks to the efforts of Senator John McCain, a tireless opponent of bundling, there has been a renewed push for legislation designed to end cable packages and institute more viewer choice in programming. Senator Richard Blumenthal of Connecticut, the state where ESPN headquarters are located, has now joined McCain in his efforts.
Then there's the age-old nemesis of the marketplace – competition. Fox Sports 1, a 24-hour network funded by Rupert Murdoch's Twenty-First Century Fox (NASDAQ: FOXA) arrived Aug. 17 and is widely seen as a challenger to ESPN.
ESPN, however, will not give up without a fight. According to The New York Times, the company recently hired political and sport statistician Nate Silver from the newspaper and brought back Keith Olbermann to host a show on ESPN2.
As National Public Radio pointed out, thanks to bundling, anywhere from a third to half of consumer cable bills are paid directly to networks like CBS (NYSE: CBS) or ESPN. The practice has become firmly entrenched in the business landscape and is not something these companies will surrender easily.
One small cable provider, Ben Hooks in rural Texas told NPR, "The way they package everything, can you imagine if you went in to buy a 2x6 and you had to take a 2x4 with it?" NPR likened it to taxes saying cable fees "spread the money around."
On the other hand, some experts caution that "unbundling" could prove costly. Investment banker, Needham & Co. said it estimates that if bundling were eliminated only 20 channels would survive and networks like ESPN would cost $20 to $25 a month, making today's estimated price of just over $5.50 pale by comparison.
At the time of this writing, Jim Probasco had no position in any mentioned securities.
Posted-In: a la carte Aereo AirPlayNews Politics Events Media General Best of Benzinga
View Comments and Join the Discussion!