In Defense of the Fast Food Industry...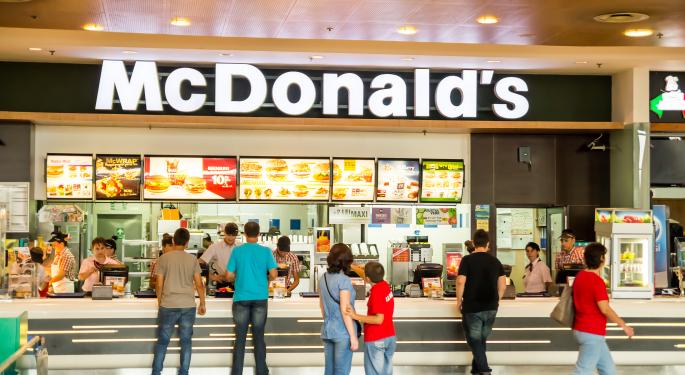 Fast food workers want higher wages. They typically make $7.50 - $10.00 an hour, but they want more. They want $15.00 an hour, enough to live comfortably on.
They have their sympathizers; they also have those who will stand and laugh at their demands. From the stance of the latter camp, this write-up is in support of the industry which provides million of jobs, albeit low-paying ones.
Sympathizers think McDonald's (NYSE: MCD) and others should voluntarily pay higher wages, swallow the cost and make less profit. This sounds nice, as if McDonald's is serving the greater good in society by acting as a pseudo government. But those who believe this don't understand how the fast food industry works, or at least how the franchise industry works.
Higher Wages Are Not Realistic
The real reason wages can't go up is because they can't. What fast food employees and their supporters don't realize is there's a big difference between McDonald's , which is a massive publicly traded company that spans the globe, and an individual McDonald's restaurant, which is independently owned by a single person or a small group of people.
McDonald's Corporation charges its franchisees four percent of sales and an additional fee which could be as much as 8.5 percent. This comes off the top, not after all other expenses are paid. So if McDonald's wages were to double, the franchisees would be responsible for the entire cost, not McDonald's Corporation.
Individual restaurants simply aren't that profitable to be able to swallow such an increase. McDonald's loves the dollar menu, but truth be told, individual franchisee hate it because margins are paper thin. If you double wages, a franchisee literally would lose money every time an item off the dollar menu was purchased.
In an industry that must run a tight ship and be extremely efficient, there is no room on the balance sheets of individual stores to suddenly raise wages. It's flat-out impossible.
The Consequences
But let's say they do. Let's say Congress mandates $15.00 an hour to all fast food employees. Here's what will happen.
First, prices will need to be raised to cover the expense.
This will cause sales to drop for two reasons:
1) The higher cost will simply turn some customers away. After all, they eat fast food because it's fast and cheap. If it's no longer cheap, there's no incentive to eat there
2) Higher prices would mean you're selling a low quality item for a medium price. This would cause many customers to seek out a medium quality product at the same medium price. Why spend six bucks for a Big Mac when you can get a very good 1/2-pound burger at Fuddruckers (are they still in business?) for the same price?
Next, the fast food industry will invest heavily in automation. Look no further than Europe, where wages are much higher than the US, to see where we'd head. Here's CNET article from two years ago that talks about 7,000 touch-screen cashiers being added to McDonald's restaurants. Hey McDonald's employees, don't you think it's better to have a low-paying job than no job at all? Because if you want more money, you will be replaced.
Think you're safe because you cook the burgers instead of taking orders? Think again. Taking it a step further, the cooking process will be automated. Go to YouTube and do a search for almost anything that is built: "how drywall is made" for example. You'll quickly realize almost everything that takes place in the "back of the house" in a fast food restaurant can be automated.
Here's a link to an article on GIZMODO from last year which talks about a company in San Francisco that has developed a machine that can pump out 360 made-to-order burgers an hour, and get this, the machine only takes up 24 square feet.
If wages are raised to $15.00 an hour, fast food restaurants of the future will resemble today's gas stations - only one or two employees and lots of automation. Restaurants will become big vending machines. Place your order (and pay for it), wait a minute and here it comes down the conveyor belt. Perhaps there'll be a person that smiles and tells you to have a great day when you pick it up.
These changes will most definitely happen slowly if wages go up much, so the current workers are probably somewhat safe. It's the 10 year-olds that are coming up behind that will be screwed. But there is one immediate effect (other than sales declining and therefore layoffs). Jobs will go to more experienced, higher skilled workers.
At $15 an hour, school teachers who only make $30K per year will look to pick up a part time side job to make a few bucks. If you're a McDonald's franchisee, who would you hire? A responsible, part-time school teacher or the unknown, possibly irresponsible and unmotivated high school kid? The answer is obvious. If teens have to compete with more experienced adults for the same jobs, they'll lose every time.
Hey fast food employees, it's better to have relatively low-paying job than no job at all. Be careful what you wish for.
Couple side notes...
I know not all fast food restaurants are primarily franchisee-owned. Chipotle, for example, is entirely corporate owned, so any increase in wages would go directly to the parent company.
View Comments and Join the Discussion!
Posted-In: News Best of Benzinga